Princes new song "Breakfast can wait" features picture of Dave Chappell
Senegal Mabry | 9/3/2013, 3:14 p.m. | Updated on 9/3/2013, 3:14 p.m.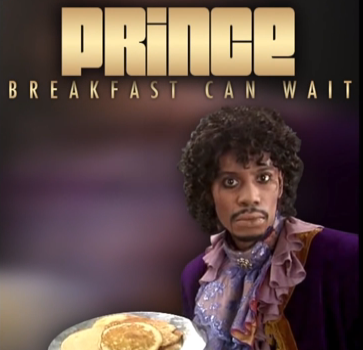 Prince's new song "Breakfast can Wait" features an image of Dave Chappell in a Prince costume for the cover art. The image comes from an episode of the Chappell show where Charlie Murphy shared another of his iconic hollywood stories, where he was beaten in a basketball game by the pop Icon prince and then served pancakes. Even with the comedy of the image it doesn't change Prince's serious dedication to music. Although the singer turned 55 june of this year he has yet to slow down. Prince has been continuing performances with his new band 3rdeyegirl of which he is the lead singer. 3rdeyegirl's most recent show was on May 25 at the Myth nightclub Minnesota. He has also been working on a new album called " "Plectrum Electrum." with the independent Kobalt Label where "Breakfast can Wait" will most likely be a track . There is no scheduled release date for the album as of yet.