Adama Paris shows spring/summer '14 in Berlin
Renee Minus White | 9/5/2013, 1:14 p.m. | Updated on 9/5/2013, 1:14 p.m.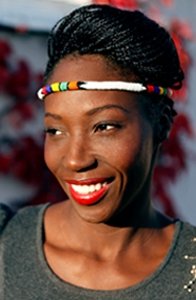 Senegalese designer Adama Amanda Ndiaye makes her debut at Mercedes Fashion Week in Berlin. For spring/summer 2014, her collection elegantly bridges cultures without assigning itself to one. Her concepts repeatedly and creatively break through the limited picture of style that is tied to culture. Her understanding of fashion drives her. To everyone's amazement, her fashion collection was shown in all of the African and European fashion weeks.
Ndiaye was born in Kinshasa, Democratic Republic of the Congo, and she now lives and works in Dakar, Senegal; New York; and Paris. As the daughter of diplomats, Ndiaye grew up in several cities around the globe. Her brand is a big name in the African fashion world. She is a multicultural designer of the new millennium. The African, American and European cultures that she encounters in her life have become part of her identity. Today, this talented designer is the entrepreneur behind the promising brand Adama Paris.
Another outstanding talent in these Berlin Fashion Week shows was 1913 Berlin by Yujia Zhai-Petrow, an Asian designer. Her cashmere knit was simply superb. Zhai-Petrow's cashmere line embodies a youthful attitude that is cool and chic. Her looks are finished off with a slouchy, carefree edge. These exclusive luxury knits make an exceptional style statement. Designed for men and women, they are effortless dressing at their best. Her looks are ethereal and edgy.
Having studied fine arts first, then fashion, Zhai-Petrow lived and worked in New York, London and Paris. She spent some years working in the cashmere apparel industry before starting her own line in 2010. Good shows!