Brooklyn-raised proprietor gives back to home country, Haiti
Tamerra Griffin | 9/5/2013, 12:04 p.m. | Updated on 9/5/2013, 12:04 p.m.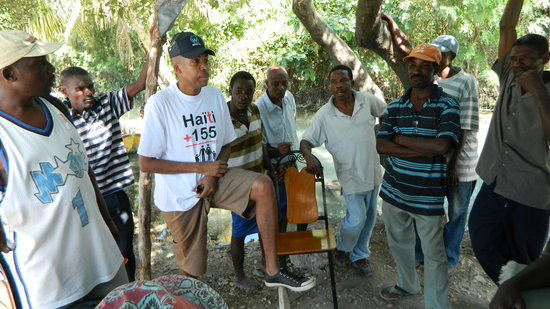 Upon entering the Brooklyn Flea in the ever-popular neighborhood of Fort Greene on a Saturday afternoon, Haitian Creole may be one of the last languages expected to be heard getting thrown back and forth across tables. Seasoned shoppers at the popular weekend fixture know that it comes from the booth of Constant Bernard, who runs a nonprofit organization with his brother Lionel called Haiti 155. As a longtime New York resident, Bernard discussed his experience during the momentous 2010 earthquake in his home country, his dreams for the organization and how these things fit into flea market culture.
The "flea" aspect of the Brooklyn open-air market is something of a misnomer, where $16 lobster rolls are abundant and credit card transactions are readily available. Nonetheless, the Bernard brothers play the game of irony and cater to the ultra-trendy nouveau riche of Brooklyn with their offerings of vintage handbags and funky sunglasses, despite the cost of operating a booth there.
"For a vendor, it is really expensive to be here," he said. "I mean, most flea markets, for $35, you are set for the day. You even get a free table and a free chair. But this market is $120 for one day. And no chair. And if you want a table, you have to rent it."
Whatever misgivings he may have about the politics of the flea market, it's evident that Bernard enjoys the weekend gig, which supplements his full-time job at a French, high-end eyewear store. His business instinct is sharp, evidenced in his ability to predict customers' tastes as they peruse products.
Equally evident is that his true passion lies in Haiti 155, which was named after the brothers' home address in Port-au-Prince. The nonprofit organization, which they established on the heels of the disastrous earthquake three years ago, aims to bridge a cultural gap between Haitians and Americans and empower Haitians to be self-sufficient. Both of the brothers were in Haiti when the earthquake struck.
"Imagine where we are standing right now," Bernard said, "and all of a sudden, it's shaking. The house we were staying at was shaking like leaves, like a tree in a storm. I was in a chair. I tried to get up and I fell back in, and I'm looking at the ceiling. But what went through my mind was, 'Oh, today is my son's birthday.' I said, 'Oh, I promised my son I'm gonna play with him when I get back, so I'm not gonna die today.' That's what went through my mind, just like that."
After the atrocities the earthquake brought, Bernard realized he had a responsibility to spread awareness and that he could do it every weekend at the market.
"Being at the flea market for my organization is a great platform for promotion," he said. "You know, that's why I have a banner here, and every customer that comes here, I give them a business card for the organization." He added that he also conducts fundraisers, like selling stuffed animals and donating the proceeds to his organization, at his flea market tent.
While his primary focus at the moment is empowering a country that, as of 2011, was populated by just over 10 million people, Bernard's ultimate vision for Haiti 155 is much, much larger.
"Besides having the not-for-profit empowering the community in Haiti, also, I want other young Haitians and other people from the African diaspora to decide, 'Hey, I can learn from these guys. I can go back to my country and help out.'"