September 2013 dance calendar
By Charamaine Patricia Warren | 9/5/2013, 1 p.m. | Updated on 9/5/2013, 1 p.m.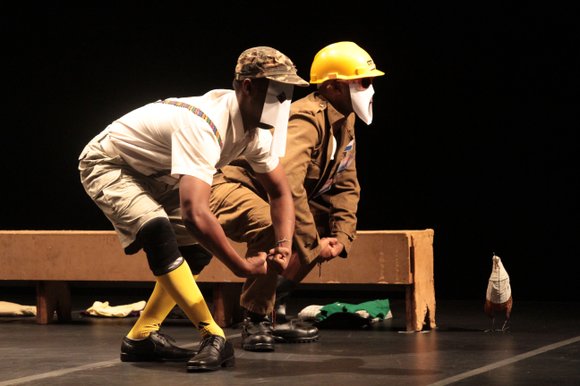 Begin the dance season with shows from international artists Boyzie Cekwana (South Africa with Mozambique) in the U.S. premiere of "The Inkomati (dis)cord," Sept. 25 - 26, and the New York premiere of Bouchra Quizquen's (Morocco) "Ha!" Sept. 27-28 at New York Live Arts (NYLA). Cekwana and Canada's "The Inkomati (dis)cord" "takes inspiration from both the failed, historic 'Nkomati accord,' a 1984 non-aggression pact signed by the Mozambique of Samora Machel and the South African apartheid state, and the Inkomati river, which crosses South Africa and Swaziland, ultimately spilling out into the Indian Ocean in Mozambique."
In this collaboration, Cekwana and Canada are said to "break through artificial borders and traverse territories, using their own bodies, skins, identities and histories … explor[ing] the internalized colonial boundaries that still alienate shared histories and aspirations." "The Inkomati (dis)cord" is performed by Amelia Socovinho, Maria Tembe, Canda and Cekwana.
Just one year after a successful presentation of Madame Plaza at NYLA as part of "Voices of Strength," Bouchra Ouizguen returns with "Ha!" On a visit to her homeland, Morocco, Quizguen was "inspired by the cultural terrain and the people [she] encountered … in the desert, mountains, schools and bars—[who in turn] enrich[ed] the movement, song and language in this new work." "Ha!" is described as "an exploration of madness." It is performed by Ouizguen and traditional Aïtas Fatéma El Hanna, Kabboura Aït Ben Hmad and Naïma Sahmoud, with lighting by designer Jean Gabriel Valot. These presentations are co-presented with the French Institute Alliance Française's Crossing the Line 2013 Festival. For more information, visit www.newyorklivearts.org.
Also this month
Sept. 10-Oct. 12: "Blink Your Eyes: Sekou Sundiata Revisited," the seven-month citywide retrospective celebrating the work and legacy of the late poet, performer, educator and activist Sekou Sundiata, concludes with two months of programming this fall. The events include a reimagining of Sundiata's "The Circle Unbroken is a Hard Bop" (1992), directed by Kamilah Forbes, co-founder and artistic director of the Hip-Hop Theater Festival; an adaptation of Sundiata's final staged work, "The 51st (Dream) State" (2006)" as a musical theater piece for radio, directed by Arthur Yorinks and featuring the original cast; "WeDaPeoples Cabaret" and much more. For more information, visit www.mappinternational.org.
Sept. 13-28: Dixon Place Presents "Eclipsis Flamenco: Encounter of Two Worlds," featuring Maria Elena Anaya, Mexican flamenco virtuoso, and other artists (Natalia Loza, Cecilia Rivera, Omar Castillo, Omar Yañez and music by Alfonso Cid, Lina Ravines, Daniel Pimentel, and Sean Kupisz) in "A Blaze of Color & Cross-Cultural Celebration," a dance theater work that documents "the historical merging of the pre-Colombian and Spanish cultures that birthed 'mestizaje,' mixed cultures." For more information, visit www.dixonplace.org.
Sept. 16-17: In celebration of the 10th anniversary of the Fall for Dance Festival, there will be two free performances at the Delacorte Theater in Central Park, hosted by the Public Theater, with four festival alumni: New York City Ballet, Paul Taylor Dance Company, Ronald K. Brown/Evidence and STREB Extreme Action Company. Free tickets for performances at the Delacorte Theater in Central Park will be distributed two per person at the Public's Delacorte Theater on the day of the show and through virtual ticketing.
Sept. 25-Oct. 5: For the 10th year, the annual $15 per ticket dance sensation the Fall for Dance Festival returns featuring 24 international companies in five programs and will include performances by 605 Collective, Alvin Ailey American Dance Theater, American Ballet Theatre, Ballet Hispanico, BODYTRAFFIC, Colin Dunne, DanceBrazil, Dance Theatre of Harlem, Dorrance Dance, doug elkins choreography, etc., Gabriel Missé and Analia Centurión, HeadSpaceDance, INTRODANS, Les Ballets Trockadero de Monte Carlo, Nrityagram, Richard Alston Dance Company, Sara Mearns and Casey Herd, Sidi Larbi Cherkaoui/Sadler's Wells London, the Royal Ballet and Martha Graham Dance Company. Tickets go on sale for Fall for Dance on Sunday, Sept. 8 at 11 a.m., and they go fast! Visit www.NYCityCenter.org.
To be listed, send press releases to amnewsdancecalendar@comcast.net.