War college: Students, faculty protest militarization of CUNY
Amity Paye | 9/5/2013, 1:33 p.m. | Updated on 9/5/2013, 1:33 p.m.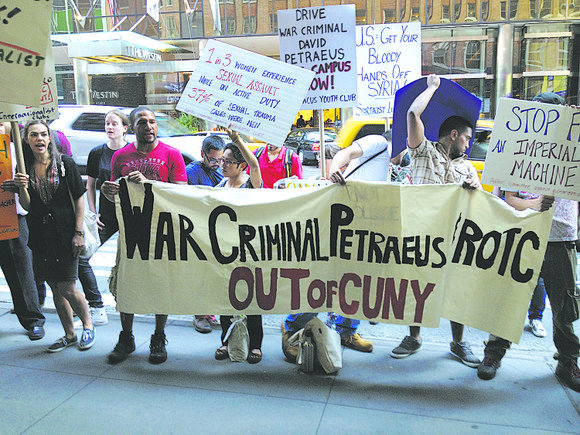 Next week, on Monday, Sept. 9, former director of the Central Intelligence Agency, Gen. David Petraeus, will begin teaching a class at CUNY's Macaulay Honors College.
On May 31, after 41 years of absence from the City University of New York, City College became the headquarters of CUNY's university-wide Reserve Officers' Training Corps (ROTC) program. Students at City College of New York, Medgar Evers College and York College are now be able to enroll in military science courses in order to be trained by the ROTC and eventually be enlisted in the army as commissioned officers.
"Military service is honorable," said former Secretary of State Colin Powell, a City College ROTC alumnus, at the signing ceremony for the re-instatement of ROTC last May. "I am honored that my alma mater has made another step to reintroduce the program that will create great leaders that we need."
Matthew Goldstein, who served as chancellor of CUNY until June of this year, said, "The leadership program offered by Army ROTC is a perfect complement to CUNY's own educational mission of access, excellence and service, and reinforces the very ideals of our democracy."
However, CUNY student and teacher activists disagree and are pointing to these changes as signs that CUNY is being militarized.
"They want to make this a war college. This is the kind of CUNY that they want, but this is not the kind of CUNY that we're going to let happen," said Portia Seddon, an adjunct professor of women and gender studies at Hunter college and a member of the CUNY Internationalists Club and of the Class Struggle Education Workers. "I think that as adjuncts joining with students at CUNY, we have to oppose the imperialist attack on the rest of the world that the U.S. is responsible for, and part of this begins with what the ruling class does in its institutions and its schools, like CUNY."
CUNY student groups, adjuncts, professors and outside supporters have formed the Ad-Hoc Committee Against the Militarization of CUNY, who call for "War Criminal Petraeus, ROTC, Military Contracts and Military Recruiters: Out of CUNY!" "Many of the students who come to CUNY are from the very nations the U.S. oppresses and exploits in its imperial conquest," the organization stated in a press release.
"Having ROTC on campus and Gen. Petraeus as well are the two big symbols of the militarization, the oppression that goes on there and the imperial ways of the U.S. military in general," said Yesenia Venegas, a student member of the CUNY Struggle Collective participating in the Ad-Hoc Committee who protested inside an ROTC informational session on Tuesday.
Protestors point to the fact that ROTC has not been instated at any of CUNY's senior colleges as a red flag. "The demographic of the three colleges (that have ROTC) are very different from places like Hunter or Brooklyn college," said Khalil Vasquez, secretary-general of the Revolutionary Student Coordinating Committee (RISK) and an organizer with the Ad-Hoc Committee. "Racially, there are more Black and Latinos in City College, York and Medgar Evers … A lot more working-class people of any nation and of any color will come into City College or Medgar than who go to Hunter. So it's pure classism and racism."