War college: Students, faculty protest militarization of CUNY
Amity Paye | 9/5/2013, 1:33 p.m. | Updated on 9/5/2013, 1:33 p.m.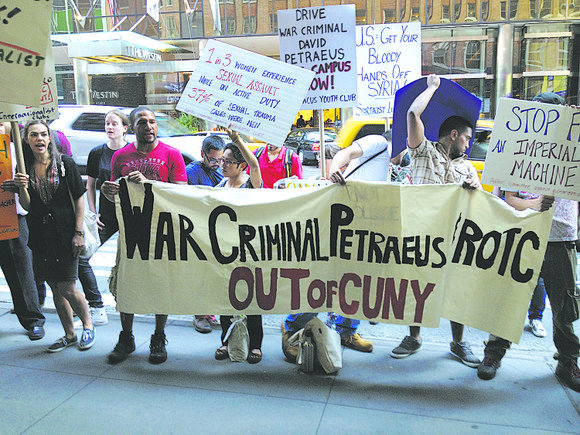 York College, was the first CUNY school to reinstate ROTC last semester, has a student body that is 51.3 percent African-American, 20.3 percent Latino, 19.4 percent Asian-Pacific Islander and 8.5 percent white, according to a 2010 report released by the CUNY Office of Institutional Research and Assessment. In comparison, Queens College, a senior college that is not yet slated to reinstate ROTC, has a student body that is 9.4 percent African-American, 18.6 percent Latino, 25.6 percent Asian-Pacific islander and 46.2 percent white, according to the same release. About 40 percent of students at both CUNY's senior and junior colleges were born outside of the United States, and thus, may not all be eligible to join the military, according to "A Profile of Undergraduates at CUNY Senior and Community Colleges: Fall 2011."
RISK, which has members participating in the Ad-Hoc Committee, also cites the administration's renaming of City College's Division of Social Sciences to the Colin Powell School for Civic and Global Leadership, Immigration
Corrections and Enforcement's programing at Queens College and Hillel at Queen's College's promotion of an "Adopt an Israeli 'Defense' Force Unit" program as proof that CUNY is being militarized.
"It is becoming all too clear where the interest of the CUNY administration lies," reads a flyer RISK has been circulating at protests around New York City. "Students of the working class and oppressed nationality communities are being filtered out, and as faculty are being squeezed more and more … All this indicates that our struggle is mainly a political one, not simply one of paying a war criminal too much, but the war criminal promoting the imperialist agenda."
The topics of Petraeus' wide-ranging topics span from studies of the Great Recession to fracking, geopolitics, labor reform, immigration policy and genetic sequencing, according to a leaked syllabus.
Earlier this year, CUNY's Professional Staff Congress (PSC), which represents more than 25,000 CUNY faculty and staff, also protested against the university's plan to pay Petraeus $150,000 to teach one class just as the union was in the middle ofnegotiations. In the wake of PSC opposition, Petraeus eventually agreed to be paid one dollar to teach the course, but teachers say that is not enough.
"We don't care if they don't pay him one penny," said Shandor John, a PSC professor of Latin American history at Hunter College and a member of the Class Struggle Education Workers, who has been organizing with the Ad-Hoc Committee. "We will not sit by while war criminals and torture and death squad organizers are brought to the campus … A very large number of the students at CUNY come from families that are from countries directly targeted by the death squads, organized by people like Petraeus," he said.
The CUNY administration, however, defends and lauds Petraeus as a highly qualified visiting professor of public policy. "CUNY is profoundly honored to welcome Dr. Petraeus to our academic community,'' said Goldstein, former chancellor of CUNY, in an April press release. "With his appointment, our students will have a unique opportunity to learn about public policy firsthand from a distinguished leader with extraordinary experience and expertise in international security issues, intelligence matters and nation-building.'' As of press time, University Director for Communications and Marketing Michael Arena could not be reached for an updated comment from Interim CUNY Chancellor William P. Kelly.