War college: Students, faculty protest militarization of CUNY
Amity Paye | 9/5/2013, 1:33 p.m. | Updated on 9/5/2013, 1:33 p.m.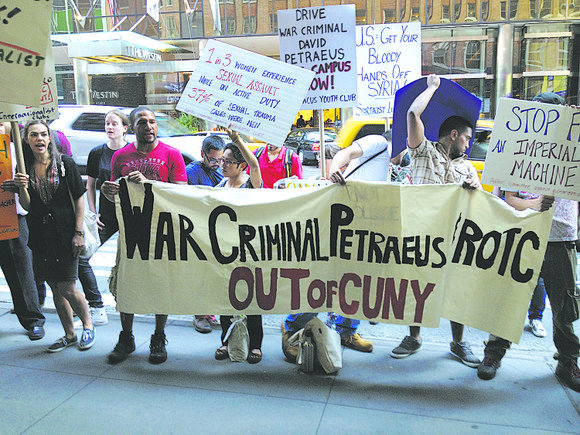 While protestors and administration decision makers are clearly at odds on the issue, CUNY activists' current concerns sound all too familiar.
In 1967, after weeks of anti-ROTC demonstrations and a push by Vietnam War student protestors to have military science courses discredited, City College's undergraduate student newspaper, The Campus, reported that 58.5 percent of students polled wanted ROTC's class accreditation status to change. "The arguments most often cited by those who oppose ROTC as it operates now were that ROTC trains men to kill and that military science courses are non-academic and do not belong on campus," reported The Campus in November of 1967. In the same week, "a faculty committee of the School of Liberal Arts and Sciences voted 7-5 to strip the program of academic credit," according to a November 1967 issue of The Campus. In 1971, after continuing student protests, ROTC was finally expelled from all CUNY campuses.
As protestors call for the same student protests and faculty votes, now they point out that it is not unprecedented for the current CUNY faculty to take similar action. Just three months ago, a majority of City University faculty members delivered a vote of no confidence for Pathways, a newly introduced system of general education requirements and new transfer guidelines across CUNY.
"We are not for the rule of the ruling class at CUNY, not the board of trustees, but rather student-teacher-worker control of CUNY," said Seddon, who was protesting with the Ad Hoc Committee against the militarization of CUNY on Tuesday.
However, students and workers also have less say in the governance of CUNY than they did in the 1970s. For example, in July of this year, Goldstein repealed the 1972 Governance Plan of Medgar Evers College, eliminating student participation in decision making around educational needs and services, according to a report by the Amsterdam News.
"This is all part of kind of cultivating a military-ready CUNY student body which is ready to be shipped out as cannon fodder for their wars to kill and be killed for the ruling class," said Seddon, mentioning Syria, North Korea and East Asia. "Its all about preparing this seamless transition from education to the military."
Venegas said she asked about some of these issues and moral ethics training for ROTC students during a ROTC information session on Tuesday, but her questions were mostly brushed off.
The information session was ended early as student protestors continued to disrupt the meeting, yelling, "ROTC out of CUNY," and asking harder hitting questions about ROTC's presence at CUNY. The director of CUNY Army ROTC, Lt. Juan Howie, did not respond for comment by press time.
Student organizers say they plan to attend all future ROTC informational meetings.
They have also scheduled actions outside of Petraeus' first class on Monday, Sept. 9 at CUNY's Macaulay Honors College (35 W. 67th St.) and have said they are planning demonstrations at successive classes on Sept.16 and Sept. 23. The Ad-Hoc Committee has set its ultimate goal to expel both Petraeus and ROTC out of all the CUNY campuses once more.