Ken Thompson Triumphs! Brooklyn votes in its first Black district attorney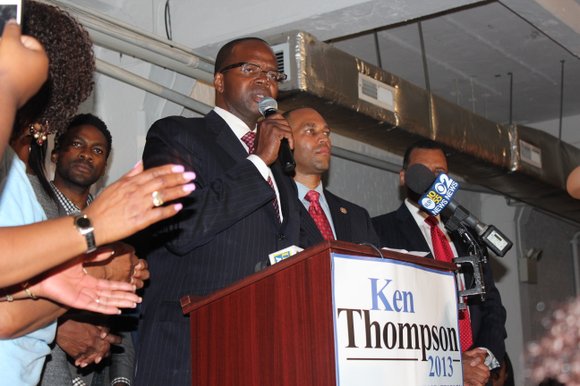 Minutes before midnight in Clinton Hill on Tuesday, Sept. 10, Kenneth Thompson stood before an ecstatic crowd, smartphones and digital cameras hovering above their heads, and delivered his victory speech as Brooklyn's newly anointed district attorney.
"Forty years ago, a 29-year-old Black woman who was living and raising three young children in the New York City housing projects took an oath to serve, to protect and to uphold the law," he said, referring to his mother, Clara Thompson, one of the first women to serve in the NYPD. "Forty years later, her youngest son, whom she fought to give a better life like she did for all of her children, was just elected Brooklyn's next district attorney."
At 47 years old, Thompson is the borough's first Black person to hold the position. By the time 99 percent of the precincts reported results during the Democratic primary Tuesday night, Thompson had earned 55 percent of the votes. His opponent was Charles Hynes, who had been Brooklyn's district attorney for the past 23 years. Thompson had been unapologetically critical of Hynes throughout the campaign, frequently reminding voters of his tendency to excuse cases of sexual abuse in the past.
"Let me be clear. All victims of sexual abuse—women and children alike—will have a champion in this DA," Thompson said.
Throughout his career as an attorney, Thompson has been known for acting as the assistant federal prosecutor in the Abner Louima case, in which Louima was brutalized and sexually abused by the NYPD in 1997, and more recently for representing Nafissatou Diallo, a hotel employee who accused former International Monetary Fund Managing Director Dominique Strauss-Khan of sexual abuse.
Thompson also underscored his dedication to bringing an end to wrongful criminal profiling, echoing the intentions of mayoral candidate Bill de Blasio, who earned the majority of the Democratic votes on Tuesday. "We will make sure that the people of Brooklyn are not stopped–and–frisked based on the color of their skin," Thompson said, the last few words of his statement melting into the crowd's explosive applause.
Campaign volunteers who supported Thompson, especially younger ones, cited his personal background, having been raised in a working-class, single-parent household, as reasons why they backed him. Omar Douce, 23, knocked on doors and passed out literature throughout the campaign, and said that Thompson's "life story, and also the fact that his mom was a police officer," drew him to the candidate.
Asia Watson felt that Thomson was "here for a change," adding that his dedication to eradicating stop-and-frisk made the past month and a half she spent making phone calls on his behalf worth it.
"Ken Thompson made history tonight. I'm proud of him and excited for him," she said.
After the voting results we confirmed, the air inside Sanders Studios was electric. A DJ strung together old- and new-school music, and election party attendees conversed over dinner. The support for Thompson, a product of New York City public schools, was palpable, as was his dedication to upholding his mother's legacy.
When he thanked her in his speech, he said, "Mom, I love and will honor you all the days of my life."