'Mother of George' shines at Angelika Sept. 13
Misani | 9/12/2013, 2:23 p.m.
Andrew Dosunmu's highly anticipated film "Mother of George" makes its New York premier on Sept. 13 at the Angelika Film Center, 18 West Houston St., after winning the well-deserved Best Cinematography Award at the 2013 Sundance Film Festival.
Set around Nostrand Avenue, Brooklyn, Dosunmu's film richly serves up screenwriter Darci Picoult's innocently steamy Nigerian fare spiced with love, marriage, adultery and scandalous family secrets. Not to mention the food for thought dished out by the family's matriarch to her daughter-in-law, leading to mayhem between siblings who run a small restaurant in their close-knit African community.
The choice made by the daughter will have a life-changing impact on the entire family and their friends. The powerful scene of a sheep being slaughtered brings all of this home.
The opening fairytale wedding of Ayodele Balogun (Isaach De Bankolé) and Adenike Balogun (Danai Gurira of "The Walking Dead") is rich in culture, pomp and ceremony, from the resplendent clothing to the tantalizing cuisine, to opulent music and dance, to the ceremonial traditional blessings bestowed upon the bride and groom.
The film also stars Tony Okungbowa (Biyi Balogun), Yaya Alafia (Sade Bakare), popular Nollywood actress Bukky Ajayi (Ma Ayo Balogun) and the international recording artist Angelique Kidjo (Ma Nike). All the actors shine and are perfectly cast for their roles.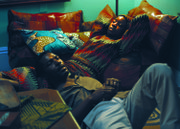 Reflecting on his background and what led him to "Mother of George," Dosunmu shared: "I come from a background where storytelling is an art form, and the more realistic the story and engaging the storyteller, the deeper the story resonates and survives. We tell stories to teach lessons, to impart family secrets and traditions, and to continue a way of life … I hope to bring this honor of storytelling to the art of filmmaking.
"'Mother of George' is a rich and complicated story that has so many layers: love, innocence, trust, tradition, custom, history."
All of these richly color "Mother of George," and it is done in a fresh, innocent way that speaks to and of our commonality as human beings regardless of ethnicity or gender. "Mother of George" is a gem that must be seen.
Presented by Oscilloscope Laboratories, "Mother of George" is produced by Lars Knudsen, Jay Van Hoy, Matt Parker, Carly Hugo, Picoult, Chris Maybach, Saemi Kim, Patrick Cunningham and Okungbowa. The executive producers of the film are Saerom Kim, Ron Simon, Rhea Scott, Fady Salame, Laura Bernieri, Jerry Tankersley, Joseph Sorrentino, De Bankolé, Andre Des Rochers, David Raymond and Jawal Nga.
Pre-sale tickets are available for the opening night screening at www.fandago.com. For special group discounts, contact nicole.manigault@gmail.com. For more information on "Mother of George," visit www.oscilloscope.net/motherofgeorge.