Primary night: Cliffhangers, blowouts and burnouts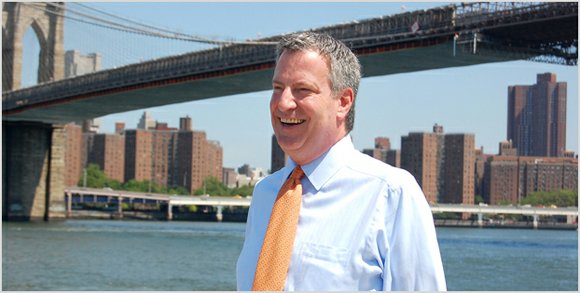 Who stands behind an elected official, in view of the cameras, during a speech is just as important as the speech itself in political circles. If Public Advocate and New York City mayoral candidate Bill de Blasio demonstrated anything, it's that he wanted to be seen as a man of the people.
With members of 1199SEIU, the New York State Nurses Association and the coalition Fast Food Forward standing on stage, de Blasio took to the podium at the Bell House, a music venue in the Gowanus section of Brooklyn, to relish the cheers and the shouts of his supporters. De Blasio had reached the 40 percent he needed to win the primary, and while all votes weren't in and the race hadn't been called yet as of press time, de Blasio spoke like a man who was sure it was his time in the spotlight.
"You made this campaign a cause, and I would like to say thank you for elevating it to that level," de Blasio said.
De Blasio revisited his campaign's talking points, from stop-and-frisk to his "A Tale of Two Cities" narrative. "There are those who have said that our vision for this city is too big, that we are asking of wealthy New Yorkers too much," said de Blasio. "That we have set our sights for our children too high, that we are guilty—guilty, my friends—of thinking too big. But let me say this: We are New Yorkers, proud citizens of the greatest city on earth. Thinking big isn't new to us. It is the very foundation of who we are."
As of press time, with 98 percent of precincts reporting, de Blasio led all Democratic nominees with 40.18 percent of the vote. Bill Thompson held second place with 26.11 percent of the vote and New York City Council Speaker Christine Quinn rounded out the top three at 15.47 percent.
While de Blasio's camp is already celebrating their path to November, Thompson stated that he's not conceding anything until every vote is counted. He reminded those in attendance at his primary party of how close he was to becoming mayor back in 2009.
"We took Mike Bloomberg on, and we almost beat him," said Thompson. "Now we're going to finish what we started. Every voice in New York City counts. And we're going to wait for every voice to be heard. We're going to wait for every voice to be counted. So my friends, this is far from over." Thompson then began a chant of "three more weeks" with the crowd.
As of AmNews press time, Thompson was heavily contemplating a runoff. So when he returned an AmNews phone call, he said, "I think there are only 780 votes that keep Bill de Blasio out of a runoff. They are going to do a recanvass of the machines on Friday and Saturday. There's also between 16,000 and 20,000 paper—absentee—ballots at least that will be counted on Monday, Tuesday or Wednesday." In the interim, Thompson said, "We will be trying to pull the possibility of a runoff campaign together. So we are talking to a number of supporters about that."