Primary night: Cliffhangers, blowouts and burnouts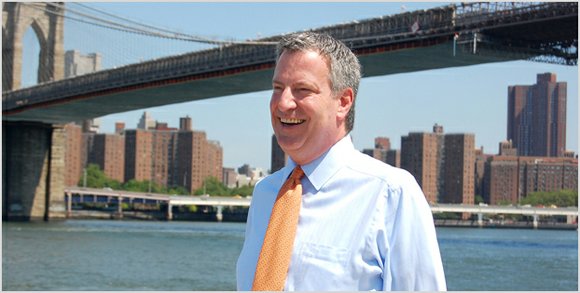 He added that he was in the midst of filing a request for "court supervision of the ballot counting process as opposed to it just being left to the Board of Elections." "It's going to be a one-on-one campaign. Just me and de Blasio."
Anthony Weiner's campaign despite emerging as a possible favorite, Weiner finished in fifth place behind New York City Comptroller John Liu with 4.91 percent of the vote.
"We had the best ideas. Sadly, I was an imperfect messenger," said Weiner during his concession speech.
Joe Lhota quietly secured the Republican nomination for mayor, defeating John Catsimatidis and George McDonald with 52.50 percent of the vote (with 98 percent of precincts reporting at press time).
During his victory speech, Lhota took a thinly-veiled shot at one of de Blasio's narratives. "I'm hearing an awful lot coming from the other side about 'A Tale of Two Cities' and how they want to tear down the progress that's happened over the last 20 years," said Lhota. "This tale is nothing more than class warfare."
In the public advocate race, Daniel Squadron and Letitia James emerged with a guaranteed runoff showdown on Oct. 1. With 98 percent of precincts reporting at press time, James finished with 36.04 percent of the vote, and Squadron finished second with 33.14 percent of the vote. Reshma Saujani, who received endorsements from rappers like Raekwon, finished in third place with 15.02 percent of the vote.
"Over the next 21 days, we'll keep talking about my record—about results, reform and integrity," said Squadron in a statement. James' campaign website's homepage had directions for her supporters on how to donate for the runoff.
A runoff for public advocate, a position many feel is unnecessary, could cost the city up to $20 million. Meanwhile, Manhattan Borough President Scott Stringer upset former New York Gov. Eliot Spitzer with a 52 percent to 48 percent margin.
Despite Spitzer outspending Stringer by a near 10-to-1 margin ($10.8 million to $1.9 million, according to the New York City Campaign Finance Board), polls from as little as a month ago showed that most New Yorkers didn't know who Stringer was and that Spitzer's political comeback from a sex scandal failed.
"I am proud to have run a campaign over the past nine weeks that many thought was incapable to mount from the very beginning when we had to gather petitions," said Spitzer during his concession speech. "But we did it in a way to make me proud of the issues we fought for when I was attorney general and governor."
Stringer said, "I'll bring experience and leadership. I will make sure I will make you proud," he said.
Liu, who came in fourth ahead of Weiner, told the AmNews on Wednesday morning, "I just left the 9/11 memorial, and I am in my office now making sure that everythng is together. As for what comes after—well, there are many options, which I will be discussing with my wife Jenny." After having "the best night's sleep in a while," the seemingly relaxed Liu stated, "They threw many curve balls as possible, and they have not knocked us down. I put everything as humanely possible in this race, and I am satisfied."