De Blasio's Blueprint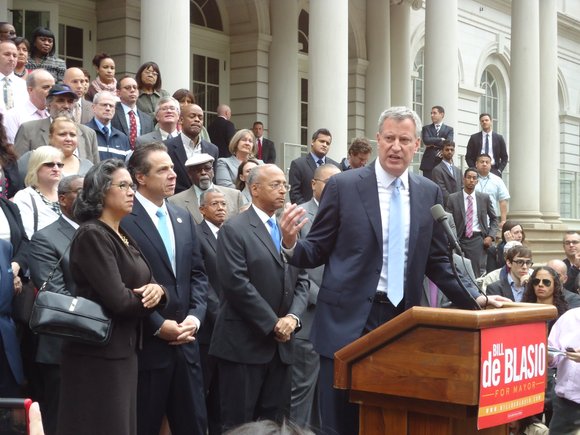 Democratic mayoral nominee Bill de Blasio thinks he is sitting pretty. After saying that every vote counts, runner-up Bill Thompson conceded on Monday—the very day the Board of Elections began counting the paper ballots.
This left de Blasio to host a huge City Hall press conference, which brought out Democratic bigwig endorsers like Thompson, Gov. Andrew Cuomo, Rep. Greg Meeks, City Councilman Al Vann and Hazel Dukes.
Completely trounced in third place at 15 percent, Christine Quinn held her press conference endorsing de Blasio the next day on the steps of City Hall. With the same gusto Thompson exhibited the day before, she declared that this was a time for Democratic unity and cited a serious need for there to be a Democratic mayor in City Hall.
According to a poll by Edison Research, last week, de Blasio captured the majority vote in the primary in all the main demographic groups: men at 44 percent, women at 42 percent, whites at 46 percent, Blacks at 44 percent and Latinos at 41 percent.

De Blasio said that Thompson's nod was a "crucial moment and very, very important to this campaign. Both Bill and Christine have very substantial coalitions—major elected officials, community activists, unions—and they brought all of that with them and made a huge difference to this campaign. This is an extraordinary example of Democratic unity in this city, where at times, Democrats have not been on the same page. This time, everyone is resolved to take back City Hall have 20 years."
De Blasio is fairly confident. He quotes the "broad-based nature of our victory," and the substantial number of Thompson and Quinn supporters who have already jumped on the bandwagon. "I don't think there are too many outliers at this point—the vast majority are very comfortable joining our coalition. There may be a few exceptions, but I have not seen a lot of evidence of that," de Blasio said.
Touting his "Tale of Two Cities" rhetoric, de Blasio himself can be perceived as divisive as the socially divided community he describes; those on the right scream that de Blasio is a terrifying radical, while those closer to the left of the center debate if he is even a progressive. Charges of him being a flip-flopper are nothing new to him. However, he rejects both assumptions.
"I have been a progressive my whole life, back to my activist years in college. My first partisan experience was working with David Dinkins on his 1989 mayoral campaign, which was obviously very progressive. I think my roots and my history as a progressive is very clear, and the people of the city saw that."
Some observers point out that he seemed to flip-flop on issues such as stop-and-frisk, term limits and being a big supporter of the developers—from Yankee Stadium, to New York University (NYU) and Columbia University and their expansion plans—but in the final analysis, despite his original position, de Blasio said that at the "crucial moment," he supported the right side.