De Blasio's Blueprint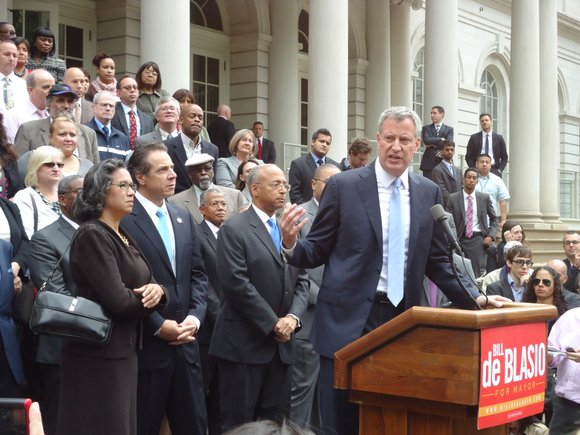 "I have taken a critical and progressive view towards development. My appointee as a city planning commissioner was the only one to vote against the first NYU expansion plan; obviously, I have focused on demanding more affordable housing from the real estate industry. Throughout my career, I have been willing to take on powerful forces on the term limits question. What mattered is that when the historic moment came—when it was actually time to decide on the issue, when I saw how the mayor was undermining the democratic process and I saw what the effects would have been in allowing him to succeed—I led the opposition against it. I think if someone takes the right stance and acts energetically on it at the moment of history—when it actually matters—that's the way to judge them."
To those who state that de Blasio was for stop-and-frisk before he was against it, the candidate touchily replied, "First of all, with all due respect, that is plainly not accurate. I never ever changed my position on stop-and-frisk."
The Brooklyn resident previously said that stop-and-frisk was an important tool of the New York Police Department and then campaigned later saying how he would make great changes to the racially profiling practice.
"I said from the beginning that the overuse of stop-and-frisk has created immense problems, that the only way to use it is constitutionally and appropriately, which by definition means it would be used a lot less frequently."
Regarding the Community Safety Act, he said, "I absoloutely agree with an independent inspector general—not named by the police commissioner, named by the mayor to be independent. And I agreed with the racial profiling bill."
He said that this week's poll, which has him leading Republican opponent Joe Lhota 65 percent to 22 percent, is "very gratifying and certainly provides evidence that my message of fighting inequality is resonating broadly across the city—not just amongst Democrats."
"We know we have a lot of work ahead. We know that it is going to be a hard-fought general election campaign, obviously; Republicans have controlled City Hall for the last 20 years. That is a sobering reality. We are going to work very hard for every vote. We are going to speak about inequality. We are going to speak about what government can do to serve people who are experiencing tremendous economic distress. It will be a very progressive vision, a very different vision from Bloomberg's."
Learning from President Barack Obama's 2008 and 2012 campaigns, de Blasio said, "We are going to have an extraordinary ground operation to make sure that people who agree with my vision will turn out to vote."
According to de Blasio, he had a "very neighborhood-based [campaign], and that proved to be highly effective." Not to mention the support he had from 1199SEIU, who were able to mobilize their members, and his strategy to build on that and the support of other unions to get out the vote.
His plan to tax the rich to help the not-so-rich has come under fire from a host of people who say that a mayor has no power to enforce something like this, which lies under the state government's jurisdiction.