Former Riker's warden gives kids the '411'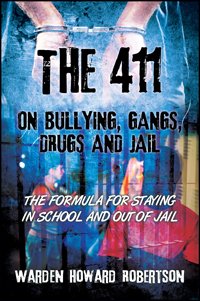 Do you know a young person who is going down the wrong path? Doing drugs? Is a member of a gang? Bullying other youth? A young person who seems to be headed for jail? Does this young person need something that speaks to them on their level and can give them a push in the correct direction? Something that utilizes raw, real words that speaks their language and can assist them on their life path?
Well then, you need to get a copy of "The 411 On Bullying, Gangs, Drugs and Jail: The Formula for Staying in School and Out of Jail," written by Warden Howard Robertson. The 82-page book was recently published by Outskirts Press and can be purchased on Amazon for $10.40. In it, Robertson speaks from his personal experiences and interviews he conducted with young men on Riker's Island. Robertson speaks directly to young readers in a language that is on their level.
Robertson grew up in Jamaica, Queens, by the 40 Projects, where drugs and crime abounded. He also shares the hardships he experienced growing up, including the murder of both of his parents on separate occasions and his brothers and one sister dying from drugs. What's very effective about this book is that Robertson doesn't just talk about drugs, gangs, bullying and life in jail in detail, he explains how people get involved in these things and he offers solutions.
He advises young people about their choice of friends and associates, encouraging them to surround themselves with positive influences. From the preface, the book speaks directly to the young reader. "The source of the information is what makes this book the real deal. It came from people who were once your age and walked in your shoes. When confronted with negative peer pressure, they made bad decisions and came up short. They don't want you to follow in their footsteps by banging, getting high, dropping out of school, being a bully and ending up in jail."
Robertson shares his personal story of hanging out with the wrong crowd from his middle school days and realizing he had to make a change. He relates the lesson he learned from his brother Herman, a drug dealer in his younger days, who seemed cool but whose life turned out to be anything but. He gives readers the revolving door statistics of his brother's time in and out of jail, which makes the negative aspects of a life of crime very real.
For the chapter on gangs, Robertson actually interviewed current and former gang members, so he's getting the information from the horse's mouth. Young people who are engaging in these activities and who read this book will clearly see themselves in the pages. He speaks their language, which makes the book more relatable to the reader. After he gives the facts about gangs, he also gives alternatives.
The chapter on bullying is very touching and very real. It focuses on the effect that bullying has on the victim and stresses that the damage can be irreversible. Robertson wrote this book to help young people. Despite the tragedy he experienced in his life, he was determined to be a success. Amidst all that happened in his life, Robertson pushed himself to get an education. He earned an undergraduate degree from Virginia Commonwealth University and a Master of Science in Education degree from Long Island University.
Robertson and his wife, Barbara, also have a for-profit organization called Air Tight Solutions Inc., which has an anti-violence program. Through this program, they go to nonprofit organizations, churches and schools and travel wherever they need to for Robertson to spread his message of telling young people how to stay out of trouble and stay in school.