Brooklyn entrepreneur enters the business of sweets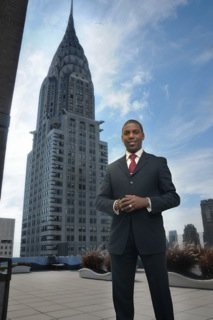 Jean Alerte cannot sit still. Even when the summer evening air around him is serene and the corner of Marcus Garvey Boulevard and MacDonough Street is dotted with neighbors preparing to turn in for the evening, his head is on a constant swivel.
Given what Alerte, who moved to Brooklyn from Haiti when he was 6 years old, has accomplished, it almost seems as though his restlessness is a necessary trait. He became a mortgage banker when he was 18 in order to fund his way through college. At 24, he was the vice president of sales for the same company. In 2007, he established and promptly became the CEO of Alerte, Carter & Associates, a management and public relations firm headquartered in Williamsburg, Brooklyn. Five years after that, Jean penned his first book, "Do Right, Do Good: An Easy-to-Use Guidebook Towards Vision Fulfillment and Entrepreneurship," the profits of which serve as scholarship funds for high school students.
But the 31-year-old's most recent entrepreneurial scheme, which he kick-started with his wife, Gayna Alerte, is rooted in an entirely different industry: the rapidly expanding business of frozen yogurt.
Brooklyn Swirl is situated on the blurry border of Bed-Stuy and Stuyvesant Heights, "depending on who you ask," Jean Alerte jokes. Its interior is decidedly modern yet inviting: Kaleidoscopic chrome tabletops reflect the series of backlit images of colorful fruit that line the walls.
He says the idea sprouted from what he and Gayna Alerte felt was a much-needed addition in the area.
"There was a lack of healthy options in this neighborhood, and we wanted to put something here that could cater to people and the changing community," Jean Alerte said.
"We knew there's a lot of things going into our food that people don't realize," said Gayna Alterte, who originally devised the plan. "Yogurt has been around for awhile. We wanted the kids to get used to something other than ice cream." While sprinkles and chocolate sauce can certainly be found at Brooklyn Swirl, the Alertes decided to promote fresh fruit toppings for the yogurt instead.
Gayna Alerte, who works full-time in real estate, said that they had initially proposed the idea to various banks and other companies to apply for loans. All of them rejected the idea for reasons ranging from competition (there is a bodega that sells ice cream across the street) to the belief that residents in the neighborhood would not be willing to pay $4 for a cup of frozen yogurt.
"We had to finance it ourselves—between savings, cash advances on credit cards, using the credit—putting our resources together to just do it," she said.
Although Jean Alerte earned his degree in accounting, he admits that most of the valuable lessons he learned from opening and operating Brooklyn Swirl were not those he picked up in the classroom.
"One of the things I learned is that you have to have patience. They don't teach you that," he said. "You have to learn how to engage people."
The latter idea proves especially crucial when running a dessert business in which the bulk of its customers visit during half of the year. In order to draw diners into Brooklyn Swirl in the colder months, Jean and Gayna Alerte decided to offer primarily fruit-filled crepes and seasonal soups in addition to the smoothie and yogurt staples.