Kendrick Lamar is official in Brooklyn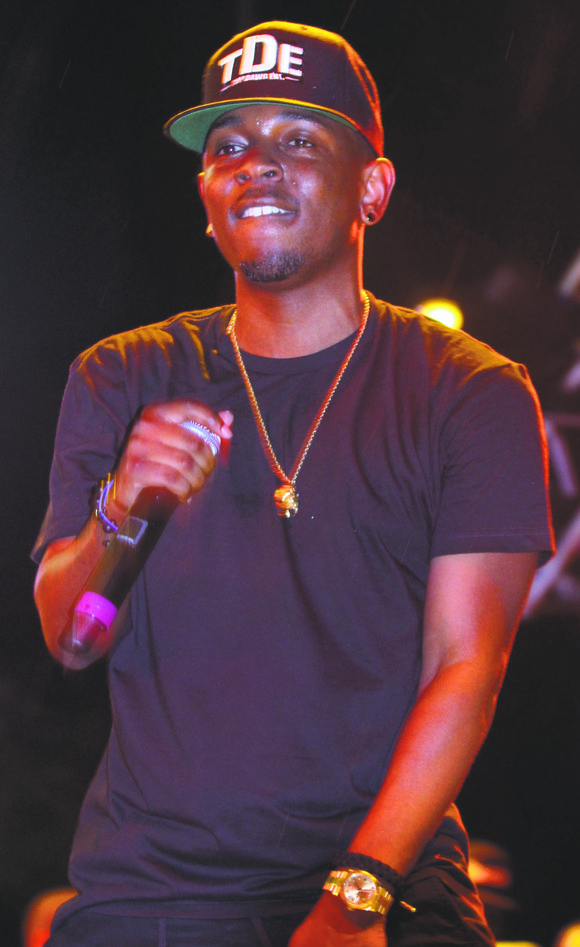 The crowd was young, loud and probably 40 to 60 white. But it was live. It was a gorgeous summer evening on Sept.10, and folks—some with way too much weed and alcohol—came to enjoy the pulsating beats and caustic lyrics of Bishop Nehru, Jay Rock and Kendrick Lamar. Top Dog Entertainment brought the ruckus.
The somewhat frequent visitor to the city, hot off of his "Control" controversy, chose the outdoor Brooklyn venue Williamsburg Park this time. Some folks thought he might do the really crazy thing and bring out Papoose and put the manufactured, pseudo East Coast/West Coast "I am the King of New York" beef to rest.
He didn't.
And although he went on at length about how the sing-along crowd obviously had been riding with him since 2005—methinks though that some of them might have been in junior high, perhaps high school—he didn't mention the controversy really. He did mention the static between him and Meek Mill, who had shared the bill at the same venue with Schoolboy Q, Kendrick's Black Hippy partner.
And there was the on-point live band. They rocked it. Lamar is an engaging performer. With pit stops like "Good Kid" and "Poetic Justice," he pulled from his roster of hits and lesser known but still widely appreciated joints.
Compton suave. You're not listening to Kendrick for salvation or revolutionary inspiration. Street corner lyricist he is. Don't you know you couldn't control anything in the venue when Kendrick dropped "M.A.A.D City,"and "B— Don't Kill My Vibe"?
Jay Rock joined him on "Money Trees," and the crowd went bananas. It didn't hurt either when he and the band and the hyped crowd joined in on A$AP Rocky's "F—n' Problems."
Bishop Neru, 17, artist-writer–producer got things started nicely with a big nod to Biggie and BK—the crowd thought he was alright. Jay Rock took the stage like it was his. Fierce. Ab-Soul was next up and blessed the eager crowd with his "Control System." He brought all of his West Coast energy and confidence and commanded that stage and an appreciative audience.
You couldn't tell anyone anything when Kendrick took to the stage. 'Twas a show the people wanted, and 'twas a show they definitely got.