'A Rite'–inspired by the music
CHARMAINE PATRICIA WARREN | 9/26/2013, 12:30 p.m.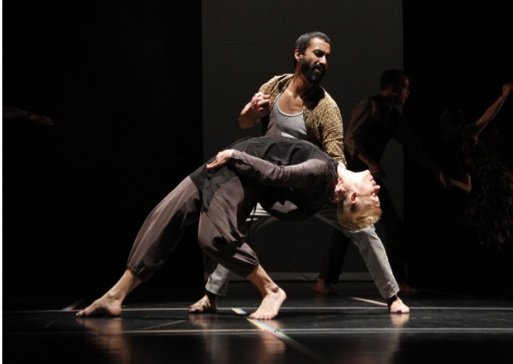 This year marks the centennial celebration of composer Igor Stravinsky and choreographer Vaslav Nijinsky's revolutionary work, "The Rite of Spring (Le Sacre du Printemps)," which premiered in Paris with Sergei Diaghilev's Ballets Russes on May 29, 1913, at the Théâtre des Champs-Elysées.
In the dance world, Stravinsky and Nijinsky's "The Rite of Spring" is one of a few legendary ballets of the 20th century. In short, these gentlemen dared to present a work that looked nothing like ballet did at the time; it included paganism, revolt, sacrifice and music that was not pleasing to the affluent of Russia. This dance, the music and the event caused a riot that is forever remembered.

As part of BAM's Next Wave Festival, Bill T. Jones/Arnie Zane Dance Company & SITI Company will present "A Rite," a collaborative work conceived, directed and choreographed by Anne Bogart (artistic director of SITI Company), Jones (artistic director, co-founder and choreographer) and Janet Wong (associate artistic director of the Jones/Zane Company) on Oct. 3-5.

Jones posed a question most might ask about the creation of yet another work related to "The Rite of Spring"; he asked, "How many different questions can we ask of a modern masterpiece?" Regarding the many versions of this masterpiece, Jones said, "There are too many … like there are too many people writing too many love songs in the world, there are too many 'Rite of Springs.'" This was his dilemma when he discovered that Bogart, someone whom he admires, was also commissioned by Emil Kang of Carolina Performing Arts to create a version of "The Rite of Spring."
"This was what I wanted to avoid," Jones said. Bogart, on the other hand, was not concerned about creating another dance based on the piece. "Coming from the theater world, I'm not at all," she said.
Both decided that it was wonderful to have a similar commission, and it was also a great opportunity for them to work with each other. "We have great respect for each other, and that's how the project came together," said Jones.

Once they agreed to proceed, Jones insisted that there be a different path, and because he loved the music, that was the direction he followed. From the start, he said, "We really pushed the people to physicalize the score. It [wasn't] enough to pull out a tape recorder and listen to the music." Wong remembered how working closely with musicologist Severine Neff helped them understand the music.
"I would dive into the music, and Anne would focus more on compositional exercises and how that would trigger people to get into the work," Wong said.
Thanking her mother for forcing her to study the piano so that she could impart the importance of the music to the dancers, Wong exclaimed, "I studied it madly, breaking it down to chunks … because dancers could better understand the phrasing. We were generating material … we just kept going." She maintains, "The music is a big guide when you are working in the abstract and deconstructed way; the music helped us go forward."