'A Rite'–inspired by the music
CHARMAINE PATRICIA WARREN | 9/26/2013, 12:30 p.m.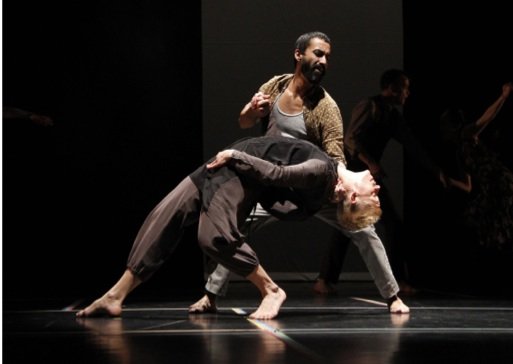 The other draw for Jones was the idea of "primitivism." "As a Black person, [Nijinsky's] turned-in knees looked like Jazz Age dancing," Jones said. This idea evolved into the image of a man walking alone. "I was trying to think of some humble human being on that hot day in May when the piece premiered, walking in a lot of places," Jones said. "I was thinking Harlem, but of course because you can't do everything, he became a soldier returning from war." So in the work, "There is a figure of a '20s-era Black man who appears on the back of a piano, and we're dancing to a jazz transcription of 'Rite of Spring.'"

Barring the expected difficulties of juggling multiple schedules and collaborative differences, tantamount to this project was the task of bringing the actors and dancers together to build a community. The dancers shared their training in a modified way with the actors, and the actors shared their investigative acting methodologies (Viewpoints and Suzuki) with the dancers.
According to Bogart, one example of this collaborative training occurred in the beginning. "Janet made some material based on gestures, and I said, 'Take that material and make a dance in a small square space that if you did it long enough, it would kill you … if you repeated your phrase enough, you would die.' We called that 'dance until you die,' because, of course, in 'The Rite of Spring,' a woman dances until she dies."
After each actor did their interpretation to exhaustion, Bogart would step in, turn off the music, bring them a stool and interview them. "How do you feel?" she would ask. It was these process-building sessions that helped build the text and other material for the final work. Wong remembered, "We were almost always in the room together … and that was important. Otherwise, we would be making our own work."
Jones added, "There is something about this already corporeal consciousness that SITI company has, moving in spatial relationship to each other, and then combining that with our gestural language, our sense of musical space—that is how the choreography was made … I like what we've got … I think it's a special piece."
"A Rite" received its world premiere in January 2013 at the University of North Carolina at Chapel Hill; it is part of the 30th anniversary of Bill T. Jones/Arnie Zane Dance Company and the 20th anniversary of SITI Company. It was commissioned by Carolina Performing Arts. "A Rite" also incorporates writings of physicist Brian Greene, Neff and Jonah Lehrer's bestselling book "Proust was a Neuroscientist."

For more information, visit www.bam.org.