Arrested CUNY 6 spark debate and continued protest against Gen. Petraeus
Amity Paye | 9/26/2013, 2:15 p.m.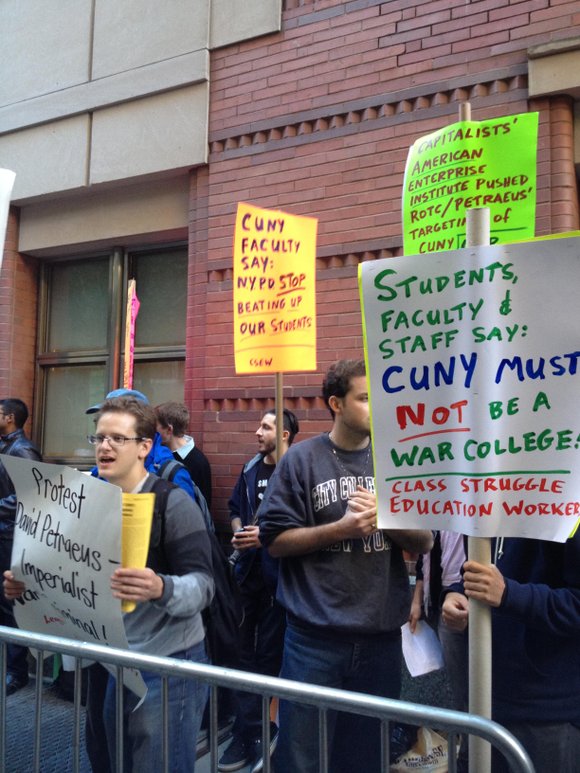 The University Faculty Senate (UFS), the faculty governance body for university-wide academic matters, put out a similar statement defending Petraeus' right to teach, saying, "Because they disagree with Professor Petraeus' views, these demonstrators intend to deprive him of his ability to teach and the ability of his students to learn from him. CUNY has long-established policies to protect the academic freedom of faculty, which are essential for the university's operation as a center of learning."
But not all of the university's recognition of the protests have been so supportive of Petreaus.
Many professiors, who are represented by the UFS, responded to their statement with shock.
"I am shocked and disappointed at the UFS statement, which effectively questions the right of CUNY students and faculty to express their views about a highly controversial public figure who was given a privileged platform to express his views in the CUNY community," wrote Tom Angotti, professor of urban affairs and planning at Hunter College and the Graduate Center in a comment. "As someone who has taught in the Macauley Honors program, I am ashamed to see Petraeus there, and as long as he is there, I will be absent."
CUNY's Professional Staff Congress, the union representing faculty and professional staff at CUNY, came out in support of its students. It unanimously passed a statement calling for a formal investigation of the NYPD's use of force and is calling for the city to drop all charges against the protestors.
City College Students for Educational Rights has a Mr.Zine petition that has been signed by over 500 people, including CUNY alums, students, professors and the like from colleges and universities around the world. It reads, "We emphatically support the efforts of these CUNY students to resist the attempts by the U.S. government and the CUNY administration to turn the university into an infamous war college with the appointment of Petraeus."
Members of the Ad Hoc Committee, including those who were arrested, have said the group will continue to protest at every one of Petraeus' classes until both ROTC and Petraeus are out of the entire system. Other groups have also picked up the call to end the militarization of CUNY, with the Free University, a group of students and professors conducting free courses in New York. They have been holding bi-weekly "counter classes" directly after Petraeus' Monday courses to "counter his course with critical education of our own."