Talking SCHOP! The Cecil (re)opens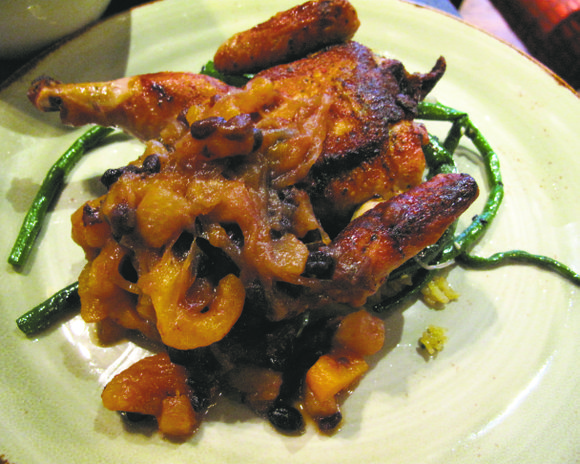 In our ever-changing neighborhood, we are constantly surprised. New places open that become our favorite restaurants, stores and spaces, while some of our favorites have unfortunately closed. We continue to site the latter for their contributions to the landscape as it now exists. We hope the new places meet our needs and expectations.
This past Monday, Sept. 23, marked the opening (more like the reopening) of the St. Nicholas Avenue Harlem icon the Cecil (@thececilharlem, 210 W. 118th St., 212-866-1262, www.thececilharlem.com). I was invited to the first tasting last Thursday to experience the result of all the hard work that Harlem resident and restaurateur Executive Chef Alexander Smalls and his dynamic team put into the rebirth.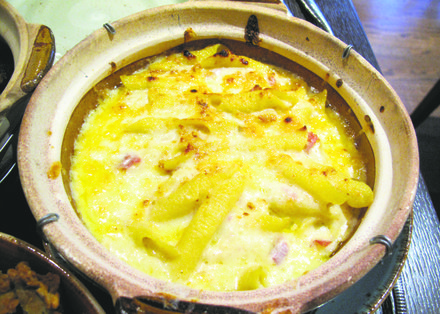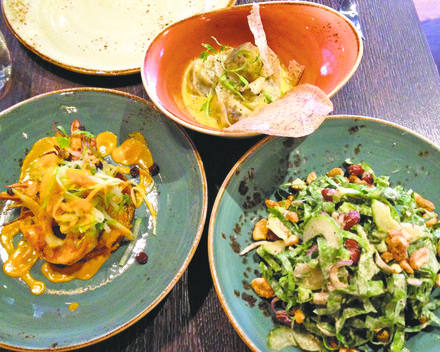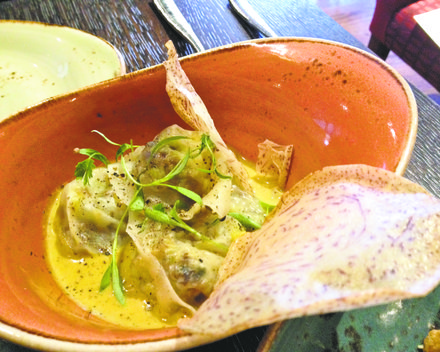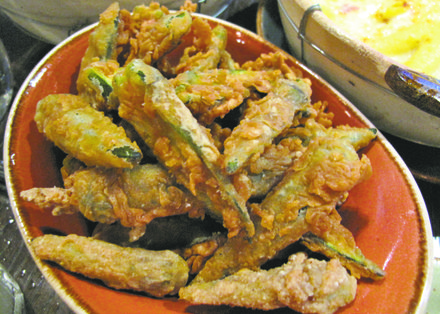 I have seen this space in its raw form when another potential owner was developing a project, and it was vast and daunting. However, walking across the threshold of the crimson-painted exterior into a warm-hued, cozy bar lounge area to smiling hosts made me feel right at home. We sat for a minute while the chambray-shirt-clad staff got its last briefing in the dining room.
In the dining room, we sat in the middle at the tufted banquette. The clean, modern design hints at the African-influenced food, with subtle watermarked wallpaper and etched tiles in the restrooms. The wall of windows demurely covered with diaphanous curtains celebrates the neighborhood and frames the Cecil's famous avenue home. My palette was anxious to peruse the menu.
There was much to take in on the legal-sized paper menu, so we asked our server for her recommendations, as I am sure that Smalls had the staff taste the entire menu. We took her suggestions: from the small plates section, oxtail dumplings and spicy prawns, and from the house salads, the collard green salad.
The oxtail dumplings are the true manifestation of the African-Asian-American fusion of the Cecil: thin dumpling skins enrobing tender and flavorful oxtail meat swathed in green apple curry sauce served with taro chips. It was rich, sublime and inventively unique!
The spicy prawns, served head on, lay on a yam flapjack bed and are perfumed with piri piri sauce. Fine dining or not, you are encouraged to suck the head for optimal flavor. The collard green salad includes azuki beans and spiced cashews and is coated in a light coconut dressing. Again, this is a great example of the Cecil's fusing of flavors.
The entrée choices sent us in a tailspin, so we tapped our server again for her knowledge and ordered from all the remaining sections with the exception of the house burgers and bun, but next time, the Gullah jumbo shrimp burger with house-made kimchi has my name all over it! I wanted to make sure I got a sample of as much as possible to share with you.
The entrees: From the wok bar, we fashioned fried black rice (aka forbidden rice) and vegetables with smoked country cut pork ribs and black pepper sauce; from shared plates (for one or more guests), we had to have the macaroni cheese casserole with rosemary, caramelized shallots and pepper ham; from entrée plates, roasted poussin (small fowl) Yassa over curry coconut sticky rice and Asian long beans with bourbon dried fruit; and from the Sides, crispy okra fries. All for you …