Terry Crews—an artist in every sense of the word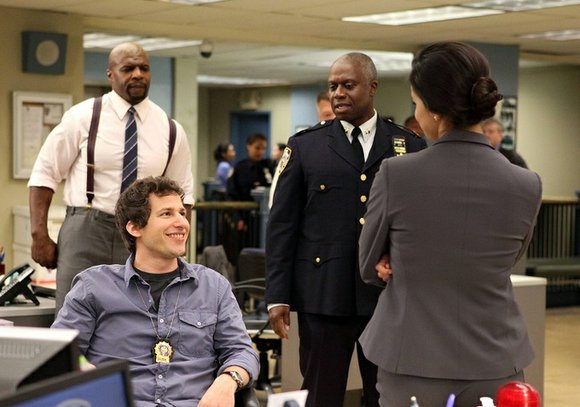 "I am blessed, blessed, blessed!" That's how former athlete, actor, voiceover star and fine artist (yes, fine artist) Terry Crews opened our conversation.
I'm such a fan of sharing other peoples' blessings that I didn't want to miss the opportunity to convey his heartfelt gratitude for a career that just keeps getting better.
In terms of his career, it appears that Crews is a constant lottery winner. He's the voice of Earl, the town cop in the Sony Pictures animated comedy "Cloudy With a Side of Meatballs 2" (opening Sept. 27) and a lead in the freshman comedy "The Brooklyn Nine-Nine," starring comic Adam Samburg, who also has a role in the aforementioned Sony Animated comedy.
I've been a fan of Crews since he brought such tender life to Julius, aka the cheapest man on earth, in Chris Rocks' semi-autobiographical slice of life comedy, "Everybody Hates Chris."
Here is what the blessed fine artist had to say about his passion for painting, Rock and being the voice of a wardrobe-challenged cop.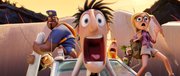 Amsterdam News: Terry, I love "Everybody Hates Chris," in large part because of how lovable you made the character, Julius. I mean, he gives brand-new meaning to the word "frugal."
Terry Crews: (laughing) Isn't that Julius something? I mean, don't we all know a proud, hardworking family man like him? I just got goose bumps ... you know that the character is based on Chris' father and that was his name. It's his way of honoring his father, who he credits for his success.
AmNews: Amen, T.C., now I have goose bumps! Question: If you opened your refrigerator and a "foodimal" greeted you, like one of the 39 that populate that strange world of "Cloudy With a Chance of Meatballs 2," of which you star in, your response would be?
TC: I think that actually happened in college, at least once; something escaped and ran past me into the night!

My serious answer is, I would not be pleased with encountering any "foodimal," that includes the fighting shrimpanzees or the cheesespider, who has 23 eyes. It's not natural, and I would not be receptive. Thankfully, it's just a great movie "what if" question.
AmNews: Here's another question: How did you end up the voice of the wardrobe-challenged Earl?
TC: I'm the biggest fan of the first "Cloudy" film. I went to the premiere with my family, and we ate bacon-flavored chocolates. We even still have our "Cloudy" lunch boxes. And when we left the movie, I said to my son, "I'm like Earl, and you're like Cal," Earl's son. So when I got the call that they were asking me to be a part of the sequel, well, they had me at "hello." Earl is the alpha male's alpha male. There's no way to go beyond the man that Earl is. Earl defines a man doin' his job—he protects his city, and he does it better than anybody.
AmNews: This is your second project with Andy Samburg. You're playing Sgt. Terry Jeffords in the new Fox comedy "Brooklyn Nine-Nine," created by "Parks and Recreation" creator and "The Office" co-creator Michael Schur.