Guyanese Opposition Leader to visit NY
4/3/2014, 11:11 a.m.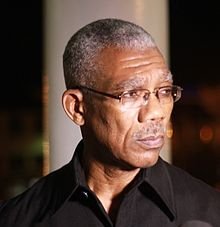 Leader of the People's National Congress Reform (PNCR) and Opposition Leader in Guyana's Parliament retired Brig. David Granger is scheduled to visit New York during the Memorial Day weekend.
This visit will honor Granger and is part of the A Partnership for National Unity (APNU) leader's pledge and commitment to visit the North American region at least every six months. This visit is to maintain fluid communications with PNCR members and supporters and brief them on the party's and APNU's legislative challenges and contributions.
A special committee headed by PNCR Center Executive Member Morris Wilson is coordinating plans and arrangements for the Granger visit. The special committee includes representatives from the North American region of PNCR, including Wilson, and is cosponsoring this visit.
Highlights of the opposition leader's visit to North America will be a meet-and-greet with residents of the borough of Queens, a town hall meeting in Queens and a discourse with business and professional people at a Brooklyn venue. At the meetings will be officials, party members and representatives from New York and beyond. For more information, call Joyce Wilson at 718-287-8251 or 917-721-9253.