Sarah Rector, the richest Black girl in America
Herb Boyd | 4/3/2014, 9:51 a.m.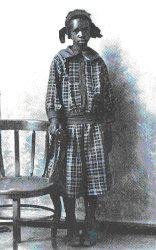 In the final days of this year's Women's History Month, there isn't a better way to close it than blending the past with the present and to tout a local author writing about a virtually unknown Black girl from Oklahoma. Tonya Bolden of the Bronx is one of the nation's most prolific authors, and her books have garnered a shelf full of awards.
A few weeks ago, renowned author Walter Dean Myers bemoaned the lack of children's books by and about African-Americans, citing the small number among the thousands produced each year. Bolden's contributions—and particularly her most recent one, "Searching for Sarah Rector: The Richest Black Girl in America" (Abrams, 2014)—provide a bit of respite from the disparity.
Activities
Find out more: Tonya Bolden's advice is spot-on, and the best place to begin in pursuit of Sarah Rector is with Bolden's book and the acknowledgments she mentioned. Furthermore, there is the online material that she referenced, and that should keep you going for a while.
Discussion: Guardianship is a topic that is significant to this story, and teachers and students may want to engage in a longer chat about the subject and how it is important beyond Rector's predicament.
Place in context: The guts of this story happened at the dawn of the last century as Indian Territory became the state of Oklahoma. More can and should be said about the Native Americans and how they figure into Rector's story and American history in general during this era.
Mentioning Rector as the richest Black girl in America is alone enough to grab the attention of most readers, be they young or old, and Bolden's illuminating discussion is geared toward a young adult audience. But the "Searching" in the title also titillates and makes you wonder what happened to her that folks are looking for her—did she deliberately vanish, or was she kidnapped?
Rector, who was born in 1902 in Indian Territory, first gained national attention from an article published in the Chicago Defender. "Richest Child of the Race Mysteriously Disappears," the article announced. "Where is Sarah Rector?" is the question that pops up several times in the article, but only in the last paragraph is there any indication of why she is the richest Black girl in America.
Apparently, Rector's family received a land allotment as a member of the Creek Nation when Oklahoma became a state in 1907. Rector's take in all this, eventually, was forty acres, and in 1911, the land was leased by a major oil company. She, or at least her guardians, received $160 an acre. Soon, there was another lease on the land but only half as much as the previous one, Bolden noted. After oil wells sprung up around her property in Taft, it was only a matter of time before she too would experience a gusher. It came in 1913.
A local newspaper reported that Rector's well was producing 2,500 barrels of oil a day, or 105,000 gallons. "With the price of crude oil about a buck a barrel, that was more than $300 a day for Sarah," Bolden wrote. The money was flowing in but not until she was 18 would any of it be hers to spend. In fact, according to one story in the Defender in 1913, Rector was forced to live in a shack.