Sarah Rector, the richest Black girl in America
Herb Boyd | 4/3/2014, 9:51 a.m.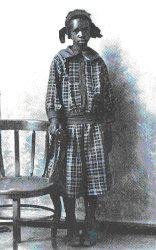 The front-page story also was upset that Rector's guardian was a white man; her family, too, was accused of being "ignorant." Fortunately, the court stepped in to protect her accumulating wealth, and her guardian built her a decent home. Meanwhile, she and her riches were the source of countless news stories, and she began receiving requests for donations and marriage proposals. The publicity became a burden, and this may have prompted her sudden disappearance.
Now, the search was on for her—a search that did not interfere with the money that was pouring in from the oil wells and later from the investments made by her guardian with court approval. Then came the real estate purchases, buildings and interest on money lending. By March of 1920, she was worth an estimated $1 million—about $11 million today. With all the wealth and publicity, it's hard to believe she was still missing, though there were notices of her being a student at Tuskegee Institute.
This Week in Black History
March 30, 1969: Multitalented entertainer and Harlem-born Sammy Davis Jr. receives the Spingarn Medal from the NAACP in tribute to his dedication to the Civil Rights Movement.
April 2, 1939: Legendary singer Marvin Gaye is born in Washington, D.C. He was shot and killed by his father in Los Angeles one day before his 45th birthday.
April 3, 1996: Harlem native Ron Brown, the nation's first African-American secretary of commerce, is killed in a plane crash in Croatia. He was 54.
"Sarah Rector wasn't living near Taft, or in Tuskegee," Bolden concluded. "She was in Kansas City, Mo., where her family had relocated a few years earlier. There, the Rectors eventually moved into a home that was a far cry from that weather-whipped two-room cabin in which Sarah began life. This home-place was a stately stone house. It became known as the Rector Mansion."
It took a number of court proceedings to free Rector of one guardian and to select one approved by her family. By 1922, when she was 20 years old, she was free to make her own decisions about her money. Subsequently, there was a failed marriage and three boys to raise. She married again in 1934 and remained with William Crawford, a restaurant owner, for the rest of her life.
She died on July 22, 1967, following a stroke, Bolden wrote. "The search continues for more information on the person once ballyhooed as the richest Black girl in America," Bolden explained. "No easy task. As an adult, she no longer hid under the bed to escape unwanted attention, but, as her son Clarence told a reporter in the 1990s, Sarah Rector was 'a very private person.'"
Bolden has done a remarkable job digging through court records, conducting interviews and piecing together a jigsaw puzzle of scraps to give Rector a fresh moment in history, and, more importantly, bringing to light one of the great mysteries of African-American history.
In an interview with the School Library Journal, Bolden elaborated on the project and offered advice to her young readers: