Sarah Rector, the richest Black girl in America
Herb Boyd | 4/3/2014, 9:51 a.m.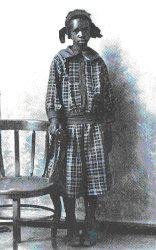 "As much as I love researching online," she began, "there are always good books I need to read and good people I need to meet in person, online or over the telephone. For example, in some of the newspapers I read online, I found Muskogee County Court notices about Sarah Rector's estate, notices that included the probate case number. So I called Muskogee County District Court and asked about getting copies of whatever was in that file. When I was told that those records were in deep storage, my heart sank. But I held out hope. I sent my contact at the court, deputy clerk Linda Garrison, a copy of my book 'Maritcha' (Abrams, 2005) and explained that I wanted to do a book on Sarah Rector—sort of like that book. A few weeks later, I received the first of many, many thick packages with photocopies of documents from that probate court case.
"That was in January 2011," Bolden continued. "By June, I had a mountain of paper. I later learned that another outfit has all or most of the documents on microfilm at a location not that far from me, but, hey, you start where you are. Plus, I had a real person at the Muskogee County District Court off whom I could occasionally bounce things and ask questions. You can't talk to microfilm. I often tell young people that if they want to know about process, take a look at my acknowledgments for starters."