State legislature oks Pre-K
Herb Boyd | 4/3/2014, 9:33 a.m.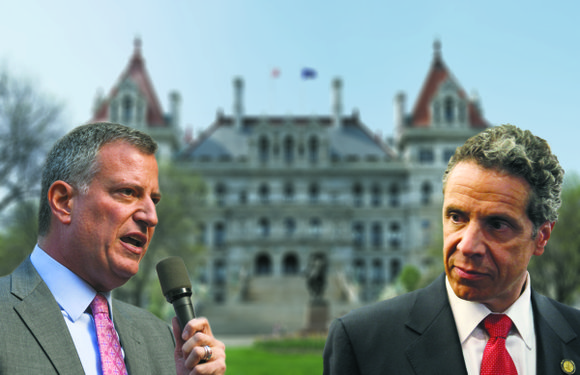 Gov. Andrew Cuomo and state legislators agreed on a $137.9 billion fiscal budget for 2014-2015 last Saturday that was finalized 90 minutes before deadline Monday evening, but the figure that is commanding the most attention is the $300 million set aside for preschool children in New York City.
While there was bonhomie from the governor and Mayor Bill de Blasio in many respects, it was merely another round in the ongoing skirmish between them, and judges at ringside might see the latest bout as a split decision. Yes, the governor and the lawmakers forked over the money for the mayor's pre-K initiative, but they also bolstered the city's charter schools, which the mayor has sought to limit.
Funds designated for statewide pre-K total a five-year investment of $1.5 billion.
During a conference call with reporters, Cuomo was delighted with the proposed budget that will be voted on Monday by lawmakers. If passed, it will run his record to four on-time budgets.
"It has to be passed," he said, "but we don't want to get ahead of ourselves … it was a good piece of work."
There were no details on the financing of pre-K.
Even de Blasio was happy with the five-year package, though it fell some $40 million short of what he wanted. He said it was "an extraordinary and historic step forward for New York City. It's clearly the resources we need to create full-day pre-K for every child in the city. … That's what we set out to do."
One of the things he set out to do was to get Albany to tax the rich to pay for the pre-K plan. The governor was never in favor of that, and he shot down the mayor's notion of charging rent for charter schools. Instead, the city must find space for charter students in public schools or pay the cost for stand-alone locations. Already there has been push back on this measure from the United Federation of Teachers, which detects a scent of favoritism from the governor for the charter schools.
The mayor will not be content with these stipulations, but there is a grain of solace in the governor's concession to change the budget language that made it difficult to enact a rent subsidy program to keep homeless families from having to seek refuge in the city's shelters.
"I applaud the state's authorization for a new rent subsidy program, which will change the dynamic for thousands of families in New York City's shelter system, and for establishing a rent cap for those living with HIV/AIDS in city-subsidized housing," said City Comptroller Scott Stringer in an email. "It was critical that this budget agreement codified in state education law my office's authority to audit charter schools in New York City. Taxpayers deserve to know that every public dollar is being spent appropriately, whether it's at a charter school or a traditional public school." 
The governor experienced some setbacks too when state legislators rejected his proposal to tighten campaign fundraising laws. They did not want to lower limits on campaign contributions or close the loopholes that permit huge donations. On the other hand, they were agreed on the enforcement of election and bribery laws.