'Blade Runner' tells court of nightmares on trial's day 17
4/9/2014, 11:04 a.m.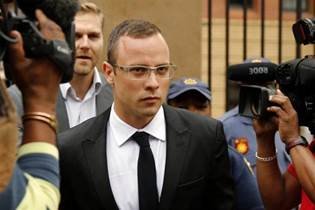 Apr. 7 (GIN) – Former Olympic champion Oscar Pistorius told the South African courtroom he suffered from "terrible nightmares" leaving him unable to sleep since the day his gun went off, shooting his girlfriend as she hid from him in the couple's bathroom.
"I can smell blood. I wake up to being terrified," testified Pistorius on Monday, his first day on the witness stand. He confessed to taking antidepressants and sleeping pills and can barely go to sleep at all.
The trembling, bespectacled figure was a far cry from the gun-obsessed, fast-living hothead that prosecutors had described in the first 16 days of the trial.
As well as murder, Pistorius is accused of firing a pistol through the sun roof of a friend's car while on a public road, and discharging a handgun under the table of a packed Johannesburg restaurant.
He has pleaded not guilty to all charges.
Pistorius, 27, who says he shot Ms. Steenkamp, 29, because he believed she was an intruder, faces a minimum of 25 years in prison if convicted of premeditated murder. Legal experts here say he will have a tough time winning a complete acquittal. South Africa abolished trial by jury in 1969, so the case is being heard by a judge, assisted by two officials known as assessors, who might be less likely than a jury to be swayed by emotion.
The Pistorius case is also complicated by a South African law that makes it illegal to fire a gun at someone unless one is directly threatened. Knowledge of that law is required to pass a gun license test.
Commentor "Spyti K" on the South African news site news24.com observed: "The law is very clear when it comes to dealing with intruders in your house; you may only fire upon them if your life and/or physical well-being of the people in your house is in imminent danger. " "Michelle" penned the following :"People around the world may believe (Pistorius) was truly in danger and feared for his life because of the high crime rate in South Africa but South Africans can see through this. He has taken a life and we as a nation want to see an appropriate punishment handed to OP (Pistorius).
The murder case on trial has brought new attention to the country's disturbing crime statistics, which cover 2012-2013, and show an increase in murder, attempted murder, armed robberies and sexual offenses, according to Africa Check.
The country's murder rate increased to 31.3 per 100,000 people, according to Africa Check - an increase of 2.8 percent.
"After a long period of decreases in serious and violent crime, these are the worst figures we have seen in 10 years," said Gareth Newham of the Institute for Security Studies.
There are an estimated 12.71 licit and illicit firearms per 100 people in South Africa, according to GunPolicy.org. There are 6.7 firearms per 100 people in the UK and a whopping 101 firearms per 100 people in the U.S. w/pix by Siphiwe Sibeko of O. Pistorius