Airport workers march in honor of MLK's 'dream'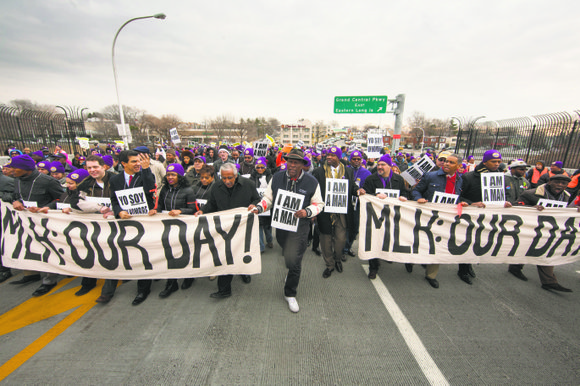 New York City area airport workers continued their fight for better wages last Friday while honoring a civil rights legend. Workers marched 10 miles from John F. Kennedy Airport to the same LaGuardia Airport bridge where protesters were arrested for civil disobedience on Martin Luther King Day this past January.
Airport workers began a countdown to April 28, which is the expiration date for a 90-day deadline set by the Port Authority of New York and New Jersey for major carriers and contractors to come up with a plan to move from what the workers call "poverty wages" and no benefits to better wages and benefits.
The march brought out many elected officials and community leaders to support airport workers, including NAACP New York State Conference President Hazel Dukes; Public Advocate Letitia James; Comptroller Scott M. Stringer; state Sens. Jose Peralta, Malcolm Smith and Adriano Espaillat; and Rep. Charles Rangel.
"You cannot ask these hardworking men and women at our airports to do important work, then turn around and pay them poverty wages," Rangel said in a statement. "Our city and our region deserve better, and shame on the airlines that are still standing on the sidelines of this effort to improve the lives and communities of these workers."
Marchers started in front of the JFK AirTrain Lefferts Boulevard station and made their way to Queens Boulevard. While there, a few workers and marchers sent a delegation the offices of airport contractor Aviation Safeguard. Afterward, marches continued toward the 94th Street Bridge at Ditmars Boulevard.
Michael Carey, a JFK Airport security officer, said workers at the airports have seen significant progress already, including a policy move underway by the Port Authority to reform workers' wages and benefits and give a pay increase to the employees of some contractors.
"We are in a struggle for our very livelihood," he said. "Any plan, whether it's from the Port Authority or the airlines and their contractors, must offer us a collective bargaining process so we can negotiate for things like affordable health care and family-sustaining wages and, in the coming years, in response to what is happening in the economy, we can improve our situation incrementally through a contract that we bargain with our employers."
32BJ SEIU President Hector Figueroa, who marched the entire 10-mile route, said workers need a real plan but have not yet heard from the airlines and their contractors.
"What the workers want is an actual three- to five-year plan that is broad and for the long-term, that includes family-sustaining wages and benefits, job protection and collectively bargained contracts," Figueroa said.
Back in December 2013, contracted airport workers delivered a signed petition to the Port Authority on Park Avenue South demanding better wages, benefits, paid sick days and holidays. They asked for a gesture from the Port Authority that showed that their suggestions were taken seriously.
When that didn't happen, the workers united with supporters, clergy members and elected officials to protest in favor of paid sick leave on Martin Luther King Day for contracted passenger service workers at Newark International, LaGuardia and John F. Kennedy airports. A crowd of almost 1,000 individuals blocked the bridge on 94th Street and Ditmars Boulevard in Astoria, Queens, that leads to LaGuardia Airport to bring attention to not only the fight for paid sick leave on Martin Luther King Day, but also the overall working conditions and low wages for airport service employees.
Of the 1,000 protesters, 32 were arrested by New York Police Department officers after they sat in the middle of the bridge leading to LaGuardia, including Rangel; New York City Council Members Inez Dickens, Ydanis Rodriguez and Ruben; New York State Assembly Members Keith Wright and Walter Thompson Mosley; and Figueroa.
After the Martin Luther King Day protest, the Port Authority of New York and New Jersey called on the four major carriers—American Airlines, Delta Air Lines, JetBlue and United Airlines—and their contractors to give JFK workers who make $9 or less an immediate $1-an-hour raise with a phase-in to $10.10, recognize Martin Luther King Day as a paid holiday retroactive to this year's holiday and work toward "providing an improved wage and benefits package to the thousands of hardworking men and women" at the airports by developing a plan within 90 days. While some of the companies, like Delta, have signed on for the $1 raise, workers have failed to actually receive the raise.
On April 23, the Port Authority Board of Commissioners will consider and debate a potential policy mandating wage increases and benefits for workers across the entire geography of Port Authority facilities, starting with the airports.
"Fair wages for airport workers and strong profits for their employers are perfectly compatible, as we have seen in San Francisco," said Peralta in a statement. "We can't stand by while low wages and no benefits lead to an astronomical turnover rate that puts lives at risk. Let's come to a fair deal and keep our airports running at full capacity."