Airport workers march in honor of MLK's 'dream'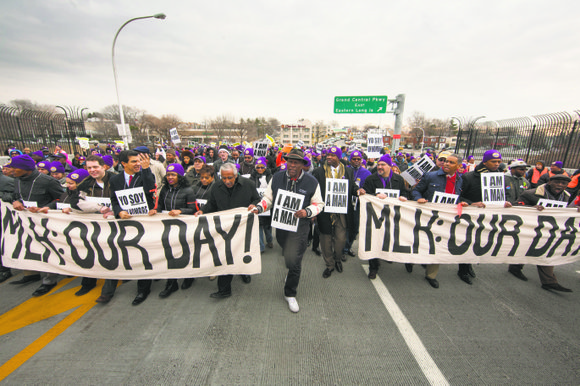 Of the 1,000 protesters, 32 were arrested by New York Police Department officers after they sat in the middle of the bridge leading to LaGuardia, including Rangel; New York City Council Members Inez Dickens, Ydanis Rodriguez and Ruben; New York State Assembly Members Keith Wright and Walter Thompson Mosley; and Figueroa.
After the Martin Luther King Day protest, the Port Authority of New York and New Jersey called on the four major carriers—American Airlines, Delta Air Lines, JetBlue and United Airlines—and their contractors to give JFK workers who make $9 or less an immediate $1-an-hour raise with a phase-in to $10.10, recognize Martin Luther King Day as a paid holiday retroactive to this year's holiday and work toward "providing an improved wage and benefits package to the thousands of hardworking men and women" at the airports by developing a plan within 90 days. While some of the companies, like Delta, have signed on for the $1 raise, workers have failed to actually receive the raise.
On April 23, the Port Authority Board of Commissioners will consider and debate a potential policy mandating wage increases and benefits for workers across the entire geography of Port Authority facilities, starting with the airports.
"Fair wages for airport workers and strong profits for their employers are perfectly compatible, as we have seen in San Francisco," said Peralta in a statement. "We can't stand by while low wages and no benefits lead to an astronomical turnover rate that puts lives at risk. Let's come to a fair deal and keep our airports running at full capacity."