'Central Park Five' rally at City Hall for 25th anniversary of injustice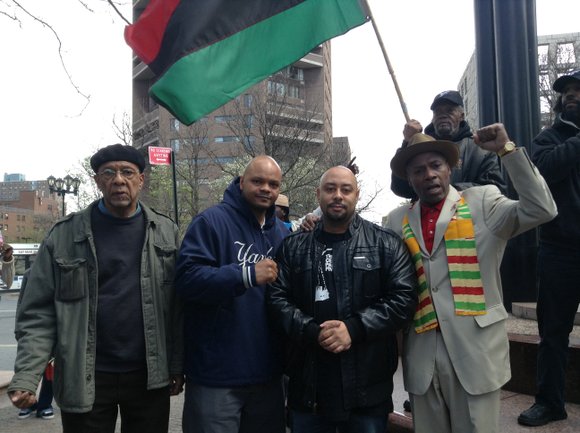 On April 19, 1989, Trisha Meili, 28, was beaten and raped while she jogged through Central Park. In the shadow of a frenzied mainstream media, five young Black and Latino youths were arrested, and they have always said they were manipulated by the NYPD into confessing. Attorney Michael Tarif Warren maintains that investigators always knew that no DNA evidence linked the five youngsters to the crime, yet they tried and convicted them in order to satisfy something like a press-whipped up bloodlust.
In 2002, while serving a life sentence for rape and murder, Matias Reyes confessed to the crime when he just happened to bump into Kharey Wise, a member of the accused group. His DNA was a match with the attack on Meili. Yet, despite evidence that exonerated them, Mayor Michael Bloomberg, former Police Commissioner Kelly and lead prosecutors in the case like Elizabeth Lederer, and Manhattan ADA Linda Fairstein, and cop Mike Sheehan still said that the five had to be involved.
"Mayor Bill de Blasio, we are still waiting for you to honor your word–spoken both during and after campaign–to settle the Central Park case, in an appropriate manner which is commiserate to the suffering of these young men who had their youth snatched from them," attorney Michael Tarif Warren told the AmNews. "The Central Park settlement case is emblematic of his credibility. It has been four months since Mayor de Blasio has been in office, yet there still is no settlement."
"As we approach the 25th anniversary of this gross injustice, we patiently wait for the wheels of justice–newly oiled with the coming of our Mayor Bill de Blasio–to turn again. Our hope is that a speedy response will be forthcoming and favorable," said Yusef Salaam, one of the five young men wrongfully convicted in the notorious Central Park jogger case. "It has been said justice delayed is justice denied ... this has been the case. There was a speedy process to convict us, there has yet to be a speedy process of complete restorative justice."
The five teenagers that spent between 6-13 years in prison and are now grown men with families, are: Raymond Santana, Salaam, Antron McCray, Wise, and Kevin Richardson.
"We have been patient, we want to finally move on with our lives and put this ugly nightmare to bed," Salaam told the AmNews. "One day in prison for a crime you didn't commit is one day too long! For my comrades and I, we collectively spent 41 years in prison for crimes we didn't commit. The time is now for justice to be swift and favorable. We and our families have suffered for far too long."
In a December 2013 news conference where he announced former U.S. Attorney Zachary Carter as the city's head of corporation counsel, then Mayor-elect de Blasio affirmed, "We will settle the Central Park Five case because a huge injustice was done." He declared that he is "committed to making that settlement quickly."
The words sounded so promising when they were spoken with such conviction and resolution. Yet, months later, crickets.