Lincoln expands Level 1 trauma center
4/10/2014, 10:51 a.m.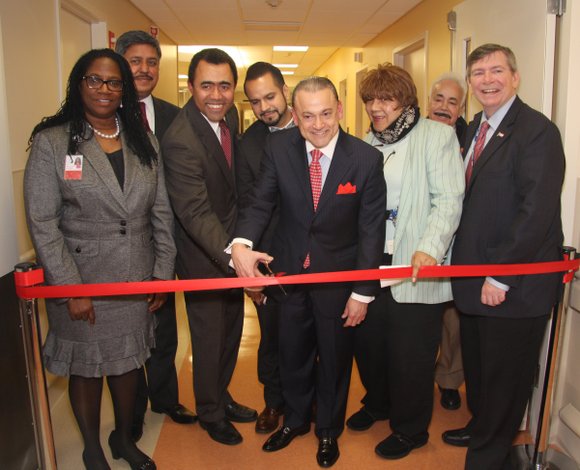 On Friday, April 4, Lincoln Medical Center held a ribbon-cutting ceremony to celebrate the completion of its emergency room, a Level 1 trauma center and the busiest single-site ED in the region. The expanded emergency room accommodates the growing community served by Lincoln, and it accommodates the steady increase of emergency room visits (from 167,00 in 2011 to 177,778 in 2013). This renovation and expansion increases square footage by 70 percent and doubles the number of treatment bays. It includes adult, pediatric and psychiatric emergency areas.
Lincoln is a member of the New York City Health and Hospitals Corporation (HHC), which oversees 11 hospitals, five skilled nursing facilities, six large diagnostic and treatment centers and more than 70 community-based clinics. HHC has invested more than $2 billion in facility modernizations over the last decade.
Pictured here are: Denise Soares, RN, senior vice president and executive director, HHC; Ramanathan Raju, MD, president, HHC; Milton Nunez, executive director, Lincoln Medical Center; state Sen. Jose M. Serrano; Jose Sanchez, president, Norwegian Hospital in Chicago, and former executive director of Lincoln; Josephine Bolus, RN, HHC board of directors; George Rodriguez, Lincoln Community Advisory Board chair; and Robert Nolan, HHC board of directors