Roy Hargrove, Aruan Ortiz, Uhadi South Africa
4/10/2014, 1:51 p.m.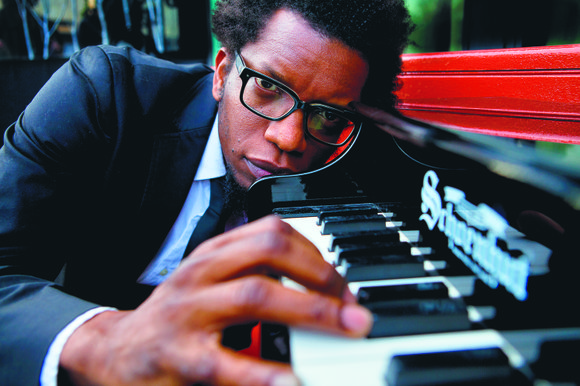 The pianist informed the audience his second son was born earlier that afternoon at 2:29 p.m. He also noted how his last performance at Dizzy's was four and a half years ago and he was hoping he would return sooner the next time around. It seems his playing ability should dictate an earlier appearance.
One can tell by the compositions and composers, Ortiz is not looking to play simple tunes, but rather for a challenge that moves his knowledge of the music to a higher pinnacle. Ortiz doesn't like to crowd his music but instead leaves open spaces for breathing room and improvisational moments.
The native of Santiago, Cuba, comes from a country that boosts such great pianists as father and son Bebo Valdes and Chucho Valdes, Gonzalo Rubalcaba and Omar Sosa. The pianist has played with such musicians as Don Byron, Esperanza Spaulding, Mingus Big Band and Joe Lovano. He has composed for the Woodwind Quintet Ensemble of Santiago de Cuba, Oyu Oro Folkloric Dance Company of New York City, Jose Mateo Ballet Theater in Cambridge, Mass., and he recently composed and directed the score for the upcoming film "Sin Alas," to be released this spring.
To celebrate the 20th anniversary of South Africa's independence, Uhadi had a four-day engagement at Dizzy's. It was jazz coming from the original roots of Africa.
The quartet featured an all-star cast of musicians residing in various parts of South Africa, featuring pianist Paul Hamner, trumpeter Feya Faku, bassist Herbie Tsoaeli, saxophonist and bandleader McCoy Mrubata, drummer Justin Badenhorst and vocalist Sibonglie Khumalo (regarded as South Africa's first lady of song).
The jazz was swinging with a South African flow—universal music that struck a chord for the entire audience that demanded a standing ovation. The show belonged to Khumalo. She sang from classical swing to operatic soul full of emotion and joy. She kept the audience spellbound as the musicians followed her with precision, although they had only three weeks of practice before arriving in New York.
The band was overjoyed to be performing in the Big Apple. It was Hamner's first visit and performance in the big city. All their tunes were originals either by the musicians or jazz legends of South Africa.