City Council member grades reaffirm commitment to advocating for human rights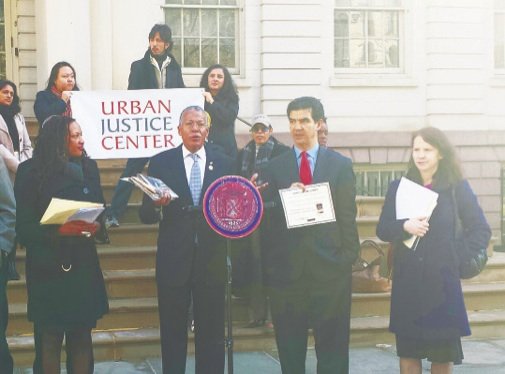 "The education you receive, in the long run, the more money you will earn to support your family, the better off your families will be, for education, health care, housing and the things that we need," said Jackson.
"Jobs are the most important issues for families today. Without a job, you can't feed your family, you can't get them the health care that they need and you can't house them."
Although absent at the event, Deborah Rose, representative of the 49th Council District in Staten Island, said in a statement that the Human Rights Report Card has brought a spotlight to how civil and human rights are incorporated in the lawmaking process.
Said Rose, "Priorities of mine this year include ensuring that Superstorm Sandy victims … get relief and access to the funding that was set aside for them to help rebuild their homes and their lives."
Urban Justice Center said it commends each of the 51 City Council members assessed in the report card for their commitment to public service and New York City, but that the 13 members are applauded for continuing to make New York City a trailblazer in human rights.
"Whether it is Manhattan Borough President Gail Brewer's push for paid sick leave, Council Member Steven Levin's work for street vendor rights, Council Members Brad Lander and Jumaane Williams' calls that the NYPD treat each individual as they would treat me, Council Member Van Bramer's push for the reform of the Board of Standards and Appeals Process or Council Member Ydanis Rodriguez's efforts to ensure each New Yorker has their human rights fulfilled," said Nicole Bramstedt, research and policy coordinator with the Human Rights Projects at the Urban Justice Center. "Each of these 13 Council members has gone above and beyond to ensure equality and government accountability."
Between 2010 and 2013, Urban Justice Center data show that only 20 percent of bills introduced were in line with human rights ideals, 225 out of 1156. Shani Jamila, director of the Human Rights Project, said the organization is working to create a city that preserves and protects the human rights of all New Yorkers.
"It's a pleasure to spotlight the achievements of the council members whose work leads us in the right direction," said Jamila.