'Partners' may keep LICH from closing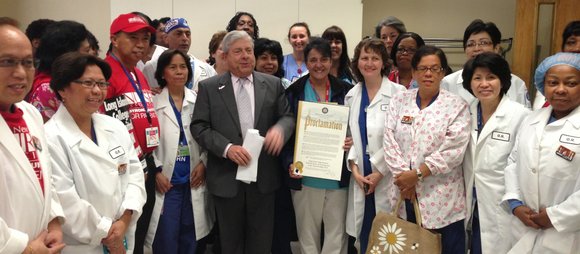 Patrons of Long Island College Hospital (LICH) rooted for the State University of New York to keep the facility fully functioning; they may have gotten their wish.
SUNY announced last week that they'll enter into negotiations on transferring ownership of LICH to Brooklyn Health Partners, who outlasted eight other proposals in the process. Their bid, worth $250 million, plans to maintain LICH as a full-service hospital with part of the property assigned for residential and commercial use.
"Brooklyn Health Partners are proud to be selected by the State of New York to provide first-class health care to the citizens of Brooklyn in the form of a new full-service hospital," Merrell Schexnydre, a 25-year veteran in real estate development and BHP's CEO aid. "From the very beginning of this request for proposal process, we have involved the Brooklyn community in our journey. The residents of Boerum Hill, Carroll Gardens, Cobble Hill, Gowanus, Red Hook and Wyckoff Gardens, are our partners and together, we will build a 21st, century medical campus."
The recent decision results from a new bidding process approved by SUNY, the New York State Nurses Association, 1199SEIU, Concerned Physicians for LICH and community groups where health services were prioritized and the community had a voice in determining LICH's new operator.
Brooklyn Health Partners proposal involves constructing a "Brooklyn Medical District" that would include a 300- to 400-bed hospital, utilizing and reconstructing buildings for a host of inpatient services including: pediatrics, intensive care, and maternity. There will also be outpatient services including: emergency, prenatal and family planning, primary and specialty care, ambulatory, and mental health.
In the meantime, the bidder's proposal includes maintaining continuous operations at LICH in the form of a "bridge facility" including a 100-bed hospital with an emergency room, ambulatory care, surgery, acute care, and supported medical services immediately upon transfer. Brooklyn Health Partners wants to begin construction on a renovated hospital facility within 24-36 months. They also promised to continue to employ 300 healthcare workers to provide care during this bridge operation and will add 2,000 more workers when the hospital opens.
Kevin Finnegan, 1199's Director of Politics and Legislation, is still taking a wait and see approach.
"1199 caregivers are cautiously optimistic about this proposal for a full-service hospital, which the community and patients have been fighting for throughout the process of keeping LICH open," Finnegan said in a statement. "We hope that Brooklyn Health Partners will work cooperatively with the community, the state and healthcare workers toward continuity and enhancement of care for the patients that depend on LICH. We will continue to stand with our coalition of patients, NYSNA nurses, doctors and elected officials for the best possible outcome."
Registered nurse Jill Furillo, NYSNA Executive Director, claimed victory, but acknowledged that their work isn't over.
"NYSNA nurses have stood strong and rallied alongside patients, 1199SEIU caregivers, doctors and elected leaders for the past year to save LICH," Furillo said in a statement. "Our coalition has fought tirelessly to preserve LICH as the full-service hospital that Brooklyn patients need, but our work is not done.
"We must ensure that LICH patients have a seamless transfer of care, LICH does not close for any period of time, and that the Brooklyn Health Partners team treats LICH employees and their collective bargaining representatives with respect," continued Furillo. "We will continue to work with all parties including the state, to guarantee continuity of care and the right outcome for the community served by LICH."
SUNY officials have began negotiations with BHP and hope to complete the transaction by late May.