And then there were two—Political pioneer Basil Paterson, passes at 87
Herb Boyd | 4/17/2014, 11:45 a.m.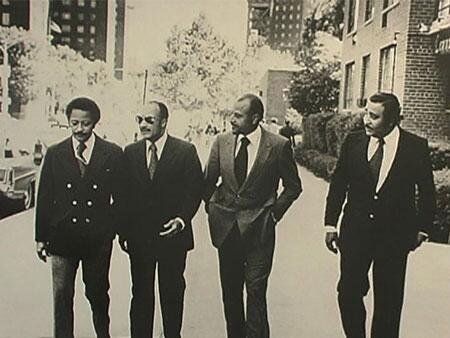 Paterson, after working several months, enrolled at St. John's College where he received his B.S. degree in biology in 1948, having spent two years in the Army. During an interview with the prestigious website HistoryMakers, Paterson related that he entered St. John's Law School and received his J.D. degree in 1951. He began his professional career as a lawyer in Harlem where he became a law partner with Ivan A. Michael and former New York City Mayor David Dinkins. Later, he and Dinkins would join forces with former Manhattan Borough President Percy Sutton, and Rangel to become the putative Gang of Four.
In 1965, he was elected to the New York State Senate where he would be ensconced until winning the primary to be the Democratic candidate for Lt. Governor. He and the ticket headed by Arthur Goldberg were defeated by Gov. Nelson A. Rockefeller. His son, David, would provide some solace for that setback when he became governor in 2008.
Paterson became the President and Chief Executive Officer of the Institute for Mediation and Conflict Resolution in 1972; he remained in that position until 1977. He was the first elected African American Vice Chairman of the Democratic National Committee in 1972. In 1978, Mayor Ed Koch appointed Paterson to the position of Deputy Mayor of Labor Relations and Personnel. A year later, Governor Hugh Carey appointed him to the position of New York Secretary of State, making him the first African American to hold that rank. In 1989, he became a commissioner of the Port Authority of New York and New Jersey, a position he held until 1995.
To cite even a portion of his prominence is daunting, but
In 2003, Paterson was appointed to the Commission to Promote Public Confidence in Judicial Elections. That same year, Paterson was elected Chairman of the KeySpan Foundation Board of Directors. Paterson served as Co-Chairman of the New York State Governor's Commission on Determinate Sentencing, and the New York State Commission on Powers of Local Government. Paterson received numerous awards including the Humanitarian Award from Coalition of Black Trade Unionists, and the St. John's University's Medal of Excellence. For many years, Paterson was a member of the Meyer, Suozzi, English and Klein law firm where he served as co-chair of the firm's labor practice.
George Gresham, president of Local 1199 SEIU, devoted his column in the Amsterdam News to Paterson last year, lauding the creation of the Basil Paterson Scholarship Fund for home care workers. "It is fitting that the scholarship bears Paterson's name," Gresham wrote, "because he as much as anyone has helped shape the campaigns to elevate the status and conditions of home care and other health care workers. Paterson has done much of the same for teachers, transit workers, civil servants and others. Over the years, he has worked as a trusted advisor and negotiator, often serving as the key link between labor and management during 11th hour talks."
And Basil Paterson was a vital link to so many vectors of human affairs within his expansive purview. As we go to press funeral and memorial services are pending.