Community remembers Basil Paterson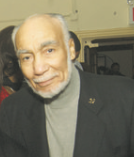 ---
4/17/14: Congressman Charles B. Rangel honors life and legacy of Basil Paterson, dearest friend of more than fifty years and greatest champion of civil rights
"I am deeply saddened that my best friend and brother, Basil Paterson, has passed away. No one has ever had an unkind thing to say about Basil – he was a man of great integrity, justice and courage to do what is right.
I am honored and grateful to have known and worked with Basil. Basil Paterson, Percy Sutton, David Dinkins, and I were inseparable and indefatigable in our continuous efforts to make Dr. King's Dream a reality for all. Each step of the way as he championed Dr. King's legacy as the state senator, deputy mayor of New York City, and then the Secretary of State of New York, Basil helped pave the path in which anybody, regardless of race, could not only vote, but also hold any public office in the nation."
In everything he did in and out of office, Basil was a pioneer who blazed the trail for a generation of leaders in Harlem, in our city and across the state. Basil broke so many barriers, giving voice to our community in his own special and unforgettable way. My deepest sympathies, thoughts and prayers are with his wife Portia, his sons Governor David Paterson and Daniel, and his grandchildren during this difficult time. We have lost a giant among men."
---
4/17/14: Statement from former New York City Mayor David Dinkins
"The Gang of Four is no more. Basil Paterson was not only the smartest among us, he was one of the most decent human beings and sharpest political minds around."
---
4/17/14: Statement from the Rev. Al Sharpton
"I have had the honor of knowing Basil Paterson since I was a teenager leading the youth division of Operation Breadbasket. In later years, my respect for him continued to grow due to his awesome intellect and his incomparable knowledge of how to get things done. He was a firm but gentle giant who brought us all to another level. As a contemporary and close friend of his son David, Basil Paterson fathered us all. He brought us to the era of our nation's first Black President & Attorney General, which was unimaginable when he first started his journey. Basil Paterson ran his race against time and at the end of the day he beat all odds and changed history"
---
4/17/14: Statement from New York City Mayor Bill de Blasio
"Today, New York City has lost a progressive giant who committed his life to lifting up others. Like so many in this city, I often sought Basil's advice and gained from his wisdom throughout the more than 20 years I had the honor of working with him. He helped to shape the thinking of so many of today's leaders in our city and state. And while Basil is known to the public as a trailblazer, he was also a family man who cared deeply for his wife and children, and my thoughts are with my good friend David today. While Basil will certainly be missed, his legacy of progress and achievement will continue to resonate in New York for generations to come."