Cornegy sounds school door alarm with proposed bill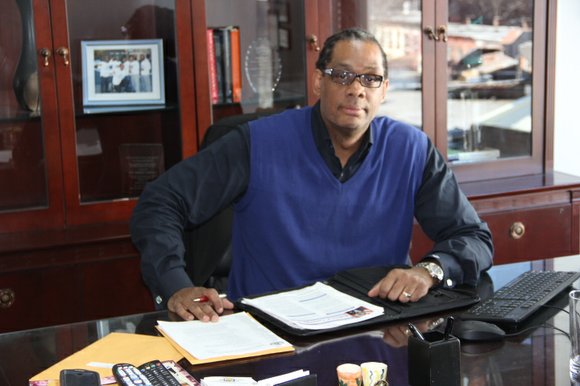 "The conversation with Council Member Cornegy was very positive, and he reassured me that the city still reverberates with the tragedy, and the rise of awareness brought on by my son, Avonte," Daniel Oquendo told the Amsterdam News. "It's a great idea to implement, better late than never. A safer New York for our children for the world to see."
The councilman continued, "Some people have said to me that they are not sure that Avonte would be alive if the alarms were on the door. Well, evidence shows us that Avonte left through an open door. He went by closed doors. He ran towards the light, so we know that had that door been closed, there would have been no light to lure him out of that door.
"As we saw from the video, the security agent summarily closed the door after he left."
As of now, in most schools, according to Cornegy, "Two security agents guard the main entrance and check people and check them out when they leave. But depending on the size of the building, there can be four and qw exits and entrances that are unmanned and unaccounted for."
Alarmingly, Cornegy added, "After Avonte's death, five other students have walked out of schools–that we know of. These children are between 4 and 6 years old. It is all documented. We have met with their families. These children were all unaccounted, for periods between 15 minutes and two hours. The horrible thing about that, aside from the obvious, is that with universal pre-K, we are going to send between 1,000 and 4,000 new students into that same environment."
He rejects the DOE position that the initiative is cost prohibitive. "When 4-year-old Symeir Talley-Jasper walked out of his preschool at William Floyd P.S. 59 in Bed-Stuy, by that evening the principal installed these alarms, at a cost of $150 a piece at a total cost of $1,000–from her own budget. But when P.S. 305 tried to do the same thing after a 6-year-old with a brain tumor left school to go home, the DOE said that they'd better not put the alarms in their building, and any body else who does it will have them removed because they did not authorize it."
Although Cornegy's proposal suggests that school custodians install the alarms, he said, "We had the Teamsters standing with us, and they said they believe that an opportunity to have another tool to protect children and to make the building safer is the right thing to do."
The DOE wants alarms that go to a central station. "Those alarms cost $100,000," said Cornegy. "A licensed DOE vendor electrician, and the cost per unit would go from $150 to about $500. Their blanket, knee-jerk reaction is that it is too expensive. They are also saying that the prudent thing to do, as opposed to installing the alarms, is to better train staff to monitor the children."
Cornegy said that all staff and adults in the building would be trained to go check where the alarm is, shut the school down and do a head count to see if any one is missing. "This makes the cost minimal, as opposed to having these hot-wired alarms that go to a centralized station ... I would like the DOE to reconsider their position and allow for these alarms to be installed."
Forty-six City Council members out of 51 have signed on to the bill. The next step is to move to get a hearing. Cornegy said Speaker Melissa Mark Viverito "is evaluating it as well as the administration. He added, "I think hearing from parents and activists will change the DOE's outlook, ultimately."
A broad coalition attended Cornegy's press conference, including Gary Mayerson, representative of the Oquendo family; the organizations Autism Speaks and Citizens' Committee for Children; Teamsters Local 237 (representing school safety agents); and families of affected children.
Cornegy said people should understand the magnitude of what was achieved at his press conference. "I had advocates for the charter school movement and the UFT in the same space at the same time advocating for the same issue. They all said that the first priority is to keep our children safe."
Elected officials in support of Cornegy's bill include state Assembly Member Annette Robinson, Brooklyn Borough President Eric Adams, Public Advocate Letitia James and New York City Council Members Laurie Cumbo and Mark Levin, among others.