LiV Warfield: A 'BlackBird' learns to fly
On the "A" w/Souleo
Souleo - | 4/20/2014, 4:37 p.m.
Prince protégé, LiV Warfield just may be 2014's breakout music star with new album The Unexpected.
LiV Warfield is used to running. But these days, the former track athlete is flying high with a revived music career. It's all thanks to discipline, confidence, faith and a music legend named, Prince. Backstage at her B.B. King Blues Club & Grill concert in NYC this past weekend, Warfield reflected on her journey from track to potentially being one of this year's breakout music stars with the release of her sophomore album, The Unexpected.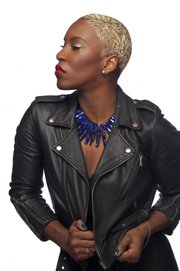 "Track was a big piece of my life. I got a track scholarship to Portland State University and I thought I was going to the Olympics," she recalled. "But I always knew I wanted to sing and perform," she said.
Around the age of 21, Warfield gathered the courage to pursue her secret passion of music which led to honing her craft in karaoke bars, hip-hop bands and closely observing live musicians. In 2006, she self-released her debut album, Embrace Me. A mix of R&B ballads and mid-tempo grooves, the album received positive critical attention but failed to generate any substantial buzz. Several years later, a YouTube audition tape sent without expectation to Prince earned LiV a spot in his backing vocal group, The New Power Generation (NPG). LiV now credits Prince as a mentor and executive producer on her new album.
"Most of the songs on the album I had for seven years. I didn't know where I wanted to go with them. I only knew I wanted to take chances, be fearless and I didn't want to second-guess myself anymore. Working with Prince and NPG changed everything. I had my training and I am ready to go."
LiV's new sound and image are a departure from her debut album. The music is what she describes as "alternative R and B soul with a little bit of rock 'n' roll," and in lieu of long black hair is a striking short blonde cut. Many of the songs feature the brass ensemble, NPG Hornz and they add a dynamic energy that Warfield's booming vocals match blow-for-blow. Lyrically Warfield runs the gamut from chiding a lying lover ("Why Do You Lie?") to the self-empowerment anthem that rejects labels and conformity ("BlackBird"). The latter (written by guitarist, Ryan Waters) and "Freedom" (written by Warfield) are indicative of her desire to spread a message of empowerment and consciousness.
"When I look at the news I get frustrated. It breaks my heart. So I want to write about those things 'cause it is reality. My freedom is through my writing. I am able to get on that stage and sing and move people lyrically. That's my calling."
It looks like many are heeding that call. On May 9, Warfield is set to perform in her hometown of Peoria, IL and will celebrate the announcement of, LiV Warfield Day on May 10. Although she has made several recent high-profile appearances on late night TV shows, Warfield said this will be the first time her family will get to know her as a singer. "I was born and raised Pentecostal. My father was a deacon and I was raised on gospel. So my family knows me only as Lil' Olivia and they are just figuring out I sing. Everybody will trip out," she exclaimed.