Fueling up again
Talking SCHOP!
In 2008, I put Pizzeria 123 on my "Best of Harlem" list for their medium plain pizza—well done, of course. It satisfied my need for crunchy thin crust and gooey cheese in one fell swoop. I was sad to see the business compromised by the neighboring construction and then its ultimate closure. Thank you for servicing our community!
Perhaps the pizza gods knew the space on the corner of 123rd Street and Frederick Douglass Boulevard was destined to remain a pizza joint. The locale has been reborn into Custom Fuel Pizza (@CustomFuelPizza, 2288 Frederick Douglass Blvd., 646-524-5636, www.customfuelpizza.com).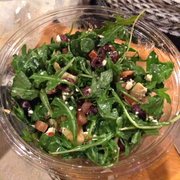 There were some delays with Custom Fuel's opening, but ultimately the retro gas station-themed space started serving customers in late February. While on my radar to try in-house first, it was takeout that initially piqued my palate.
SCHOP! Tip: When trying a new eatery, always start with the basics. At a pizza place, that is the margherita—crust, sauce, cheese and basil. That is the basis of how all pizza should be measured. If a margherita's elements are good, then you can move on to other combinations.
Not knowing anything about Custom Fuel pizza, I was surprised at the rectangular, bold, graphic take away box, which was the first indicator the business had a different approach to the round pizza we know and love. Inside was a margherita on whole-wheat crust with prosciutto for extra heft. Crispy thin crust? Check. Bright, clean tomato sauce? Check. Fresh buffalo mozzarella? Check. Basil? Check. All the markers were there.
My first in-house visit came on a cold, rainy night. A friend wanted to catch up and suggested Custom Fuel to be the place to do it. I enjoyed the clean, open space with 1950s-era gas station touches of chrome and bright red. However, I found the signage a little confusing—where to order and where to pick up—as did most of the patrons I watched enter.
Reviewing the menu, I was pleasantly surprised by the ingredient options one can combine, along with their "Vintage" and "Classic" menus of unique and traditional pizzas. Of their crust choices (original, whole wheat, gluten-free), it is their original I find noteworthy. They use less processed, unbromated, unbleached white flour (conventional bromated, bleached flour has been banned in most countries, mandated by the FDA to be included on the ingredients list for United States manufacturers and has been linked to thyroid disease—but I digress), which helps to retain the natural protein in wheat and ultimately makes the crust healthier. The debate of what to order was hard between the Old Bay Shrimp and the Brooklyn Bridge, but the combination of the meats of the latter wore me down. Italian sausage, prosciutto and pepperoni with cherry peppers, fresh mozzarella, rosemary and chili oil just felt right. My friend had the spicy shrimp and garlic pizza and the Riviera salad featuring arugula, artichoke and goat cheese.
When our pizzas emerged from their grown-up, Easy Bake-like oven in two minutes, we were then able to add any of their free cold toppings, such as cheeses, herbs, veggies and spices. I got most of them added, making my pizza a little top heavy and more of a meal than it already was.
As we moved over to pay, there they were—beer taps! That's right, draft and bottled beer can be purchased. I restrained myself that night, but look out next time!
The pizzas were right, and for the price of $8 or less, they were fresh, filling and flavorful. The salad was a nice option as well.
I have a couple of notes in addition to the signage mention above. The petite shrimp they use gets lost physically and flavor-wise in the final product. Larger shrimp would better service their customers. Additionally, the ventilation system needs improvement. After sitting in Custom Fuel for 90 minutes, we emerged smelling like we worked there all day.
Overall, I had a great experience with Custom Fuel both at home and in the store. It is the right affordable pizza re-addition to the Harlem neighborhood. Welcome … back!
Happy eating and thanks for reading!
---
Kysha Harris is a food writer, culinary producer, consultant and owner of SCHOP!, a personalized food service offering weekly and in-home entertaining packages. Questions? Comments? Requests? Feedback? Invitations? Email her at kysha@iSCHOP.com, follow her on Twitter and Instagram @SCHOPgirl and on Facebook. For even more recipes, tips and food musings, subscribe to her blog.