The mayor's first 100 days and then some …
Herb Boyd | 4/24/2014, 3 p.m.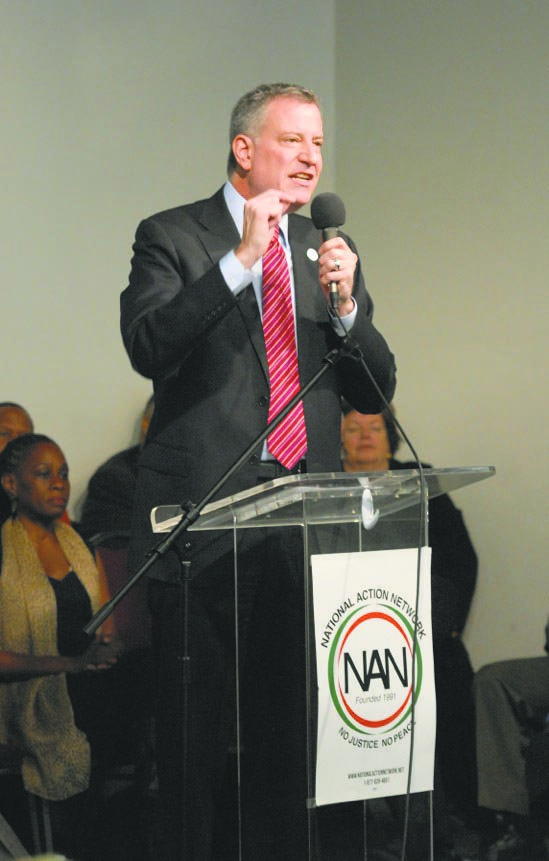 Mayor Bill de Blasio is not immune to the arbitrary and traditional milestone of the evaluation of a mayor's 100 days in office, a date that now has been exceeded by more than a week. Those few extra days do not alter the fact that his first term is highlighted by an explosion and explosive news.
The explosion that happened March 12 in East Harlem—in which eight people were killed, 70 were injured and two apartment buildings were turned into a pile of rubble and scattered debris—rocked the city and could have rocked the de Blasio administration. But he was Billy on the spot, matching the speed with which former Mayor Rudy Giuliani got to 9/11 and former Mayor Michael Bloomberg got to Hurricane Sandy.
However, the recent polls seem to show him lagging behind his predecessors for the same number of days at the helm, and a Quinnipiac poll last month showed a 27 percent dip in his approval rating from the 72 percent margin of victory last November. There was slight improvement in early April by another poll, but there are good polls, bad polls and polls with more distinction than difference.
The explosive news occurred just the other day, when it was reported that the NYPD was ending its furtive spying on the Muslim community, and this form of racial profiling compares favorably with the mayor's stance on stop-and-frisk, measures that reflect his choice of Bill Bratton as police commissioner, replacing Ray Kelly.
If not exactly explosive news, the mayor's ongoing fight over charter schools may be something he will have to live with for quite a while. The consensus seems to suggest he came out OK on this one by allowing the continuance of most of the schools, though putting the brakes on three others. His less than excited approach to charter schools has put him in direct confrontation with Gov. Andrew Cuomo, and the man from Albany got the last word on this by assuring a flow of cash to the city's charter schools. Meanwhile, the imbroglio over pre-K can be seen as another victory for the mayor, even if he didn't get all the money he requested.
The meat of this will take place in the fall when thousands of 4-year-olds line up for their keepers, and like the Affordable Care Act, we have to wait to see what the final numbers are and if follow-up programs are put in place to ensure the progress of our young people.
The plan to tax the rich to pay for pre-K fizzled out, but the mayor's determination to fight to do something about income and economic inequality should keep his base content—at least temporarily.
His failure to appoint more African-Americans to his team is a growing concern, and if the recent rumblings and grumblings are any indication, this issue may fester and become more than a bit nettlesome for him. Illustrating the point, dozens of clergy and activists gathered on the steps of City Hall on April 17 to call on de Blasio to "deal righteously with his strongest electoral base."