Sistas' fundraiser, Savion tap instrument, Dr. Smith swings
Ron Scott | 4/24/2014, 4:10 p.m.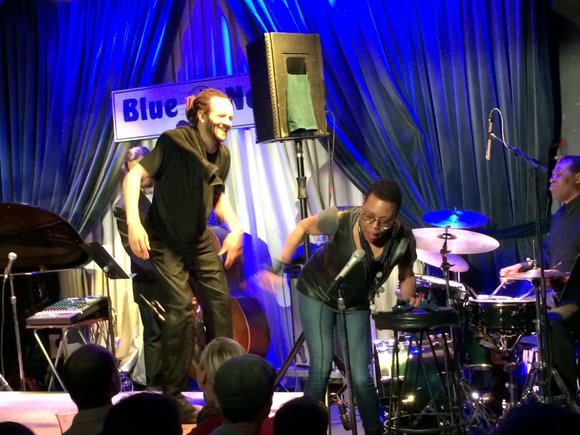 Sistas' Place (456 Nostrand Ave., Brooklyn) will hold a fundraiser for jazz on April 24 from 7 p.m. to 9 p.m. The tickets are $50 per person and will support the National Preservation, Education and Promotion Act, introduced by Rep. John Conyers and referred to the Committee on House Administration in addition to the Committee on Education and the Workforce.
The bill will establish programs and funding for a National Jazz Preservation program, Jazz Education in Schools program, and support business and enterprise initiatives in the field of jazz. Cocktails and light refreshments will be served at the evening, which will be hosted by Rob Crocker. To RSVP, call 718-398-1766.
The Blue Note Jazz Club audience was mesmerized as they watched the nonstop action on the tiny bandstand. It was more than music, it was exciting, hardcore improvisational action that flowed through the happy feet of the quintet's leader, tap dancer, choreographer and actor Savion Glover.
Glover adds new meaning to the concept of a hard-working musician. Watching the tireless, creative steps of Glover leaves no doubt that he takes the title of "hardest working member in a jazz band" without hesitation. With two sets per night, he may actually lose at least two to three pounds per evening.

While Glover's hypnotic steps demanded attention, "his friends"—able musicians such as pianists Marcus Persiani and special guest Kenny Barron, saxophonist Patience Higgins, bassist Alex Hernandez and drummer Dwayne "Cook" Broadnax—were not on stage to serve as smooth background accompanists. They were there to share an exciting musical dialogue that infused the machine gun riffs of tap dancing with an open, rhythmic flow of instruments on tunes like Thelonious Monk's "Well You Needn't" or Andy McCloud's "Song for Lou."
It was the same burning efforts that took place with Count Basie's Band and the Nicholas Brothers when they were on stage pushing each other to blazing heights, or Honi Coles' hoofing with the Cab Calloway Big Band.
"Playing with him is such an experience," said Barron. "He gives you so much room to express yourself."
Glover started the tune by tapping out the tempo. What makes the journey so invigorating is Glover's individual open dialogue with each instrument. They trade rhythms and melodic harmonies back and forth; it is crazy to watch. It's not avant-garde but an open forum of jazz—free-spirited music at its most explosive peak.

The performance is definitely a joint effort, with the band in intuitive cahoots with Glover. Their solos are daring, and each instrumental duet with Glover is an improvisational encounter.
The following evening, Glover returned with his worthy band of friends and special guest vocalist Dee Dee Bridgewater. They started off with "A Night in Tunisia." Bridgewater took the high notes, Glover followed, getting high notes from his taps and bending the beats like piano keys.
She took to scatting, and his "tap tap scoop" bebop followed. On Dinah Washington's "This Bitter Earth," the two slowed the pace, and Glover's tapping was a brisk, melodic walk through heartfelt adventures over and under Bridgewater's vocals.