Sistas' fundraiser, Savion tap instrument, Dr. Smith swings
Ron Scott | 4/24/2014, 4:10 p.m.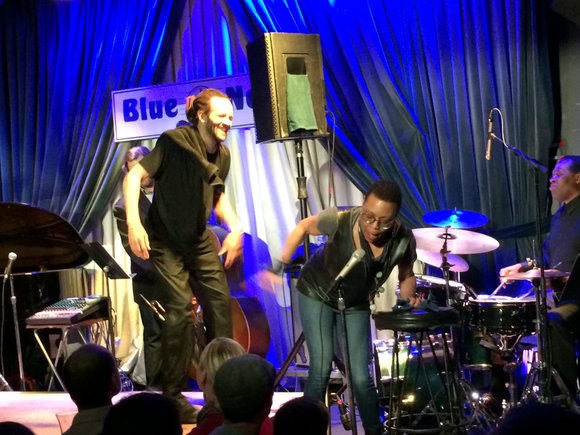 "Savion is extraordinary. To combine his tap dancing with jazz is something I have never seen before," said Bridgewater. "I think what he is doing is amazing."
Glover says he is an "improvigrapher" as opposed to an improviser. It is similar to choreographing, except this is his jazz version of choreography and improvisation.
Glover is carrying the tap dancing torch that was given to him by his great elders Gregory Hines, Bill "Bojangles" Robinson, Sammy Davis Jr., Sandman Sims, the Copasetics, Jimmy Slyde and Charles "Cholly" Atkins. During each show, they looked down and said, "Hey, that kid is really carrying on."
Dr. Lonnie Smith was recently on fire at Jazz Standard, where he led a trio featuring guitarist Jonathan Kreisberg and drummer Jonathan Blake. Smith was content with being the undercurrent for the guitar and drums as they carried the tempo while he indulged in a soft melody that slowly escalated into a blazing ball of funky blues. It was difficult to tell whether his organ cries, sings, laughs or dances the blues. It sounds like a combination of everything swinging together.
Special guest guitarist Lionel Loueke joined in on Smith's original "Dapper Dan," a straight-up funk tune that didn't hold back. Loueke, a native of Benin, has a sound that fudges the rhythms of his homeland with jazz riffs. Smith's version of "Straight No Chaser" was moving with heavy organ chords and was foot peddle-filled with a note of the blues.
"I love playing with Lonnie because he always gives you a chance to get loose, and then he comes back and takes the music higher with all that energy," said Blake.