TFF: Legends in our city
By LAPACAZO SANDOVAL, ART SHRIAN, RACHEL TIEDERMAN and PAUL ZAPATA | 4/24/2014, 3:49 p.m.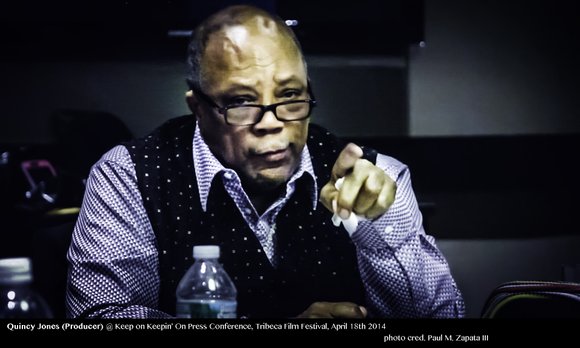 "OMG. That's Quincy Jones, and he's smiling at you," murmured Rachel Tiederman, the newest myNewYorkeye multimedia team member, under her breath.
"Darling, now that's an Afro," crooned the legendary and one-and-only Quincy Jones after peeping my wild hair. "That must be something to see in the morning!"
He smiled and then jumped right into the mix about the documentary "Keep on Keepin' On," which screened in competition at the 2014 Tribeca Film Festival. The heartwarming doc celebrates Clark Terry as an iconic musician, mentor and teacher while introducing one of equal vibrancy—Justin Kauflin.
"Clark Terry was my first teacher, and he's my dearest friend." Jones continued. "And he corrupted me. I was so young playing in the clubs, learning about life, and I had him. I love this man. Many do. I certainly do."
Kauflin, a young and dynamic pianist who lost his sight at an early age and who started training with Terry, has that inner glow that sparks and glitters. I found myself smiling as he accepted praise from the filmmakers and "Q," who is now his manager.
"I'm happy. I'm so blessed," said Kauflin. "I'm so lucky to have all of these people around me and Clark Terry. All of his students are lucky, not just me."
"Oh yes," confirmed Jones with his signature cool. "Oh yes. Clark is a hell of a teacher indeed, and he corrupted me and schooled me. Clark and Frank [Sinatra], those cats saw it all. I learned about music, but most important, I learned about life."
Later that night, we covered the American Express Card Members screening and party, which was followed by a very special Terry tribute concert produced by Jones and featuring Herbie Hancock, Dianne Reeves, Roy Hargrove, Jon Batiste and Kauflin.
Whoopi Goldberg and film director Barbara Koppel, who were both so moved by the film, led the Q-and-A afterward. The sold-out premiere and performance was exclusive to American Express Card Members.
"I've never seen so much truth in one film in my life," said Jones after watching "Keep on Keepin' On."
One of our favorite films was "Time Is Illmatic," written by Erik Parker and directed by multimedia artist One9. Those handsome men shared and kept it real. Tears did flow, including mine, but in my defense, I learned that this film on Nas is going to screen in correctional facilities and inside schools. Nas and the team are going to teach by example. This no-nonsense doc is going to make a positive difference because it's that authentic.
'Time Is Illmatic' is a testament to the cultural resiliency of 1990s New York City youth culture," said Vee Bravo, director of education at the Tribeca Film Institute, who is overseeing the educational campaign and outreach around the film. "The film rightfully positions Nas as one of the premier lyrical leaders who spoke for a generation of young people marginalized by the mainstream and inspired them to be critical thinkers. In light of 'Illmatic's' 20th anniversary, the film will be a vital educational tool for future generations interested in the history of hip-hop as an agent of change."