Eric Garner's Death Ruled a Homicide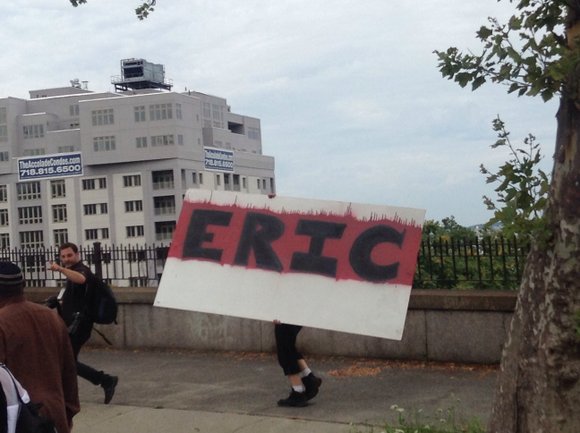 The New York City Medical Examiner finally released Eric Garner's autopsy. The medical examiner has confirmed what internet videos have shown and the Black community has suspected since Garner's death was made public three weeks ago, that it was a homicide.
After Garner was forced to the ground in what looks like a chokehold, the video recorded him yell "I can't breath," while another officer presses Garner's head into the cement.
The examiner announced that Garner's death was due to neck and chest compressions, not respiratory failure like the Police Department would have us believe - though his weight and asthma were contributing factors.
The police maintain that they confronted Eric Garner for illegally selling cigarettes, then after he wouldn't submit to their demands were forced to act accordingly. They still deny a choke hold was used.
The original bystander to shoot the video of the altercation, Ramsey Orta, denies Garner sold cigarettes illegally that day. Instead, he insists all Garner did, before Police decided to approach him, was break up a fight.
Officer Daniel Pantaleo, the officer caught on video placing his arm around Garner's neck, was placed on desk duty and has since had his badge and gun taken away. Also the four emergency responders who handled Garner were suspended pending an investigation according to CBS.
Mayor de Blasio offered a statement after learning of the official coroner's report.
"I extend my deepest sympathies to the family of Eric Garner," the mayor said in the statement. "My administration will continue to work with all involved authorities, including the Richmond County District Attorney, to ensure a fair and justified outcome."
Al Sharpton plans to march across the Verrazano Bridge later this month as a response to the medical examiner's conclusion.
"Now it's time. Since the ME has made his determination, now is the time for the rubber to meet the road, and somebody to show, where we go," Sharpton said.
The march will take place on August 23.