800 Fathers celebrate first ever Family Day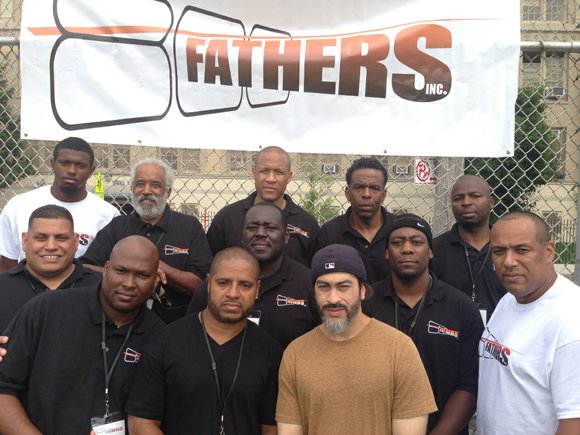 A clear sunny summer day in the Gun Hill section of the Bronx proved to be the prefect backdrop for the first ever 800 Fathers' Family Day. The Evander Childs High School football field was the venue for a barbecue, also providing space for family activities like tag football and volleyball and an inflatable playhouse for a group of emphatic children.
The event came to fruition when 10 high school teammates from the 1989 Evander Childs' championship football team decided they wanted to give back to the youth in the community. They came together and started a nonprofit organization dedicated to establishing positive programs for youth to keep them away from the negativity of the streets.
"We came up with the idea to give something back to our community," said Kevin Pryor. "We all know how kids can fall victim to gun violence, gangs and negative people who want to lead them astray. So we said, 'We know the problems, let's be part of the solution.' Today is the first step."
The name 800 Fathers represents Evander Childs' address, 800 Gun Hill Road, together with the members—fathers who graduated from the high school.
Chris Burgos was on the school football team. One of the members of the organization, he is considered by peers as a role model in his Bronx community. "All the kids seem to be stuck inside playing video games," he told the AmNews. "We intend to give them plenty of opportunities to engage in some outside activities. When I was presented with this idea, it touched my heart. I am happy to be involved."
Caleb B. Dauphin, the founder of 800 Fathers, told the AmNews that one of the main goals for the organization in the near future is to approach community leaders and push for the city to allocate funds for more community centers in his Bronx neighborhood.
"It means a lot to parents to know that there are safe places for their children to go in the neighborhood," he said.
With the exception of the NYCHA centers, District 12 is without a community center. Councilman Andy King, a lifelong resident of the northeast Bronx and an Evander Childs High School graduate, attended the event. "What we have managed to do this budget season is put money aside for NYCHA senior centers and after-school services," King told the AmNews. "The mayor's initiative enables us to keep centers open later to bring kids in."
King added that his district would have a community center. "We do have a location. The YMCA is interested, he said. I have had conversations with the speaker, and it is going to happen."