Back-to-school fashions: Whimsical yet chic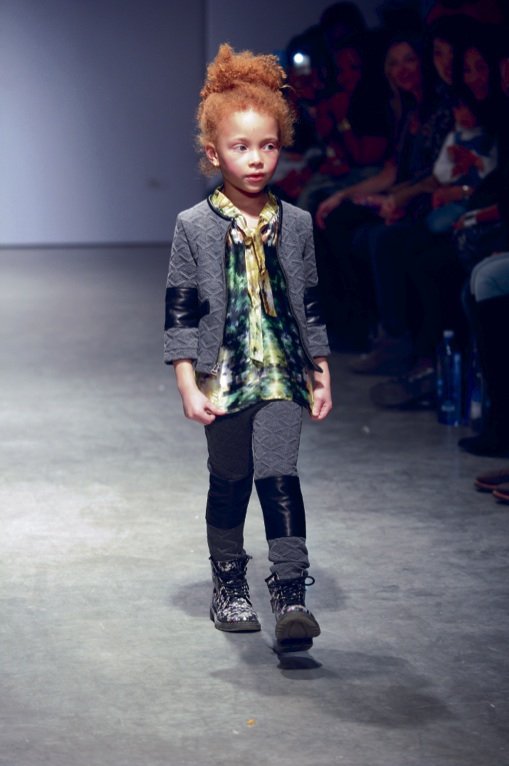 Alva Simone, created by mother and daughter design duo Shirley Newton and Simone Colbert, is a beautiful clothes collection for beautiful souls. You might remember reading about their autumn/winter line when it was featured on the AmNews Trends page last March, when they presented their clothing line at Petite Parade Kids Fashion Week. Within days, the collection was bought by Barneys New York, where it's currently on shelves, and the line will also be available at Nordstrom.com beginning Sept. 1.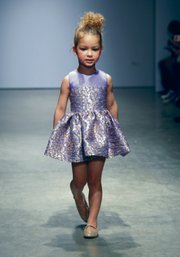 Founded in 2012, these designers knew what they wanted to create. "We want our girls to feel special in our clothing, whether they are heading to a fancy event with their parents or simply lounging around just being a girl!" said Colbert. Alivia Simone is designed for girls ages 4 to 12 and has garnered the likes of quite a few notable celeb-u-tots.
This collection is inspired by watercolors. Various colors flow throughout the collection for a whimsical yet chic style. From its colorful and fun "Leo" party dress, as seen on Chance Combs (P. Diddy's little girl), to its sophisticated collection of jacquard dresses that can be suitable for a bridal party's Mini-Me, all girls will stand out in Alivia Simone designs. All of the pieces in their collection range from 100 percent silk fabrics to a very high-end polyester, along with faux leather, faux skins and prints.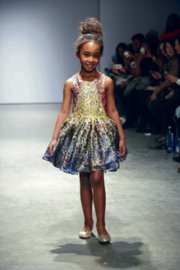 Now at Barneys New York, the collection includes the faux leather embossed rose skirt, poly satin pants, a digitally printed silk dress and blouse in leopard print and orchid vines. There is also a silk crepe de chine hand-embroidered leather sequins blouse. The limited edition silk "Leo Dress" is fully lined in yellow charmeuse. It's a fall season favorite.
All of the garments are manufactured in the U.S., both on the East and West coasts. 'We take great pride in the finished quality of our garments, and it excites us to show off how well you can produce beautiful children's clothes here in the USA," commented Colbert. This line is not about one style—it's about lifestyle.
Minnetonka for Hello Kitty shared their latest collaboration with Sanrio just in time for back-to-school. This super cute collection delivers an offering of women's and children's moccasin-style footwear and fringed ankle boots. Sanrio is best known for global pop icon Hello Kitty and renowned global moccasin brand Minnetonka. In celebration of Hello Kitty's 40th anniversary, two Minnetonka for Hello Kitty collections will be offered—one for kids and one for women. The collections will feature a moccasin-style colored suede that include hot pink, brown, dusty brown and black. Both collections are in stores.
"Minnetonka and Hello Kitty are both memory brands that are passed down for generations. Parents who grew up wearing Minnetonka or Hello Kitty as a child are now sharing that brand love with their own children," stated Kalyn Waters, Minnetonka director of marketing.
The Minnetonka for Hello Kitty collections were designed based on two popular Minnetonka styles that were then accentuated with classic Hello Kitty icons, including her famous bow. "Fall 2014 trends are favoring the fringe, as well as pop art, so we believe that the Minnetonka for Hello Kitty collections will be a unique combination. Both Minnetonka and Hello Kitty collections are a unique combination that will really excite fans of all ages," said Waters.
Kids Mocs are priced at $39.95, and the boot is priced at $49.95. For women, mocs will be offered at $49.95, and the boot will be priced at $69.95.