Eric Garner case highlights schism between cops and community
Herb Boyd | 8/7/2014, 1:04 p.m.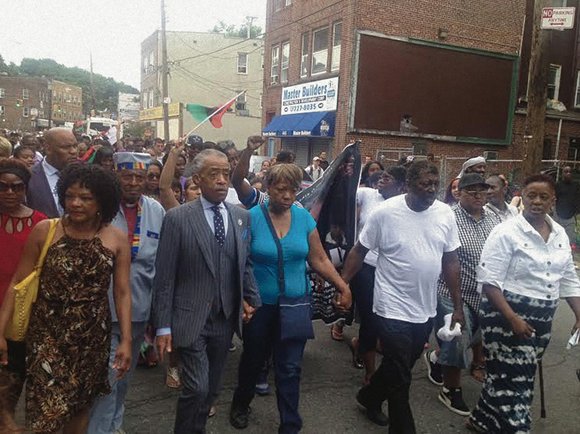 Each day brings new developments in the death of Eric Garner. Last Friday, the city's medical examiner announced that Garner's death resulted from a chokehold, something that was evident from the cellphone video of the encounter. To the relief of Garner's family and their supporters seeking clarity and justice in the case, the official ruling was that the death was a "homicide."
The medical examiner's report, said the Rev. Al Sharpton, "confirmed what we've been saying for the last two weeks. This is about an illegal chokehold that caused his death and that is probable cause for arrest."
Hazel N. Dukes, NAACP New York State conference president, called the medical examiner's report "a step in the right direction. I stand along with the NAACP Staten Island Branch President Edward C. Josey, New York and the entire community to see that justice is served for Mr. Garner. We will be closely watching the investigation—and working to see that violence against our community at the hands of the police ends."
July 17, Garner, 43, the father of six children, was approached by uniformed and undercover police officers who sought to arrest him for peddling illegal cigarettes in the Tompkinsville section of Staten Island. When Garner refused to be handcuffed, pleading with the officers that he had done nothing wrong, Officer Daniel Pantaleo slipped behind him and grabbed him in a chokehold, wrestling the more than 300 pound man to the pavement.
Other officers surrounded Garner and pinned him to the sidewalk. Pantaleo pressed his head down severely while others knelt on his body. "I can't breathe, I can't breathe," Garner can be heard repeatedly saying. But the officers continue to hold him down, although he's clearly immobilized.
According to the report from the medical examiner and a statement from the medical examiner's office's director of public affairs, Julie Bolcer, Garner died as a result of "compression of neck, compression of chest and prone positioning during physical restraint by police." Garner also suffered from obesity, acute asthma and hypertensive cardiovascular disease, all of which may have contributed to his death.
The Patrolmen's Benevolent Association president, Pat Lynch, said at a press conference Tuesday, "It is outrageously insulting to all police officers to say that we go out on our streets to choke people of color, as Al Sharpton stated while seated right next to our mayor at City Hall." Lynch decried "the lack of respect for law enforcement resulting from the slanderous, insulting and unjust manner in which police officers are being portrayed by race baiters, politicians, pundits and even our elected officials."

Lynch also said that the restraining move that killed Garner wasn't actually a chokehold, and the medical examiner got it wrong. Councilwoman Inez Barron said Lynch is essentially claiming that "people didn't really actually see what they saw."
Sharpton responded to Lynch by saying, "It is time to have a mature conversation about policing rather than immature name-calling and childish attempts to scapegoat. Within the realm of criminal justice, my credibility and that of the National Action Network is established, even the president of the United States and the United States attorney general spoke at our convention here in New York in April, and both have participated in several prior conventions. So my visit to City Hall is not exactly the highlight of my year or necessary to accreditate our views."