Eric Garner case highlights schism between cops and community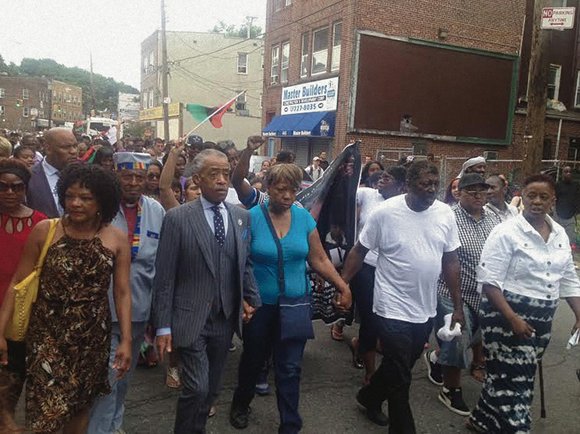 This brouhaha happened in the wake of the July 31 City Hall press conference, which featured Police Commissioner Bill Bratton, Mayor Bill de Blasio and Sharpton. There, while the mayor looked on, Sharpton pointed into the audience and stated that if Dante de Blasio were not the mayor's son, he, too, would be a candidate for police misconduct. However, since Bill de Blasio ran his mayoral campaign last year, many Black folk noted that on any given day, his teenage son Dante could "fit the description."
"The mayor should understand that Dante fits the description for any cop having a bad day, or just deciding that he's got to grab a Black person for some random crime," said activist Divine Allah. "Then again, with the rate they are locking up Black women, Chirlaine and Chiara could be looked at as suspects, too. We have a problem with law enforcement, and since de Blasio very visibly and purposefully showcased his Black family during his campaign for mayor last year, he should be aware most definitely what issues face Black communities in the real world."
Sharpton told an overflow crowd at the National Action Network that the Staten Island district attorney, Daniel Donovan, either "needs to say 'I'm moving forward to an arrest' or 'I'm deferring to the federal government.'"
Referring to the medical examiner's homicide ruling, Garner's mother, Gwen Carr, said, "Thank you, Jesus," during an appearance last Saturday at the National Action Network. She said these were the first words from her mouth upon hearing the medical examiner's report about her son's death.
At the moment, Pantaleo has been stripped of his gun and badge and placed on desk assignment pending investigation. A spokesperson for the Richmond County district attorney's office, Douglas Auer, said the investigation of Garner's death continues. "We await the issuance of the official death certificate and the autopsy report," he said.
Lynch defended Pantaleo, asserting that his reassignment was "completely unwarranted" and a "knee-jerk reaction for political reasons." He added that the medical examiner's report "indicates that Mr. Garner was a man with serious health problems, so there will have to be a complete and thorough analysis of all the factors that played a part in this tragedy. We believe, however, that if he had not resisted the lawful order of the police officers placing him under arrest, this tragedy would not have occurred."
"Police Commissioner Bill Bratton must go!" repeated former Councilman Charles Barron. "He should have never been appointed. The death of our brother Eric Garner must be put at the doorsteps of Police Commissioner Bill Bratton. His 'broken windows' theory on crime—arrest people (especially Black and Brown people) for minor crimes now, then you will prevent them from committing major crimes later—is stupid and racist.
This practice is causing more unnecessary violent confrontations with police and our people. An elderly man was beaten by police for jaywalking, and now Brother Garner was choked to death for selling loose cigarettes. He told them the he wasn't selling any cigarettes, and after they attacked him, he told them eight times that he couldn't breathe. These killer cops should be tried, convicted, sentenced and thrown under the jail for the rest of their lives."