Newport at 60 celebrates sassy Sarah and Brownie
Jazz Notes
Ron Scott | 8/7/2014, 1:54 p.m.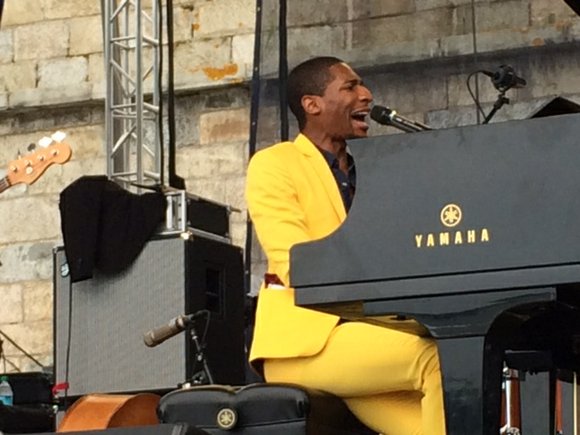 When you are successful, it is easy to rest on your laurels, but a lackadaisical attitude was never a part of George Wein's mentality, which is why his Newport Jazz Festival just celebrated its 60th year.
During the gala last weekend, after his good friend Bill Cosby introduced him, Wein stated, "I was fighting for respect in jazz." Newport's 60 years proves there is respect for jazz and Wein, who had the perseverance to keep it moving on a creative journey with young and established musicians.
This year, the festival was extended to three days, as opposed to its usual two. There was more than enough music to please jazz fans from as far as Sweden.
On opening day, Jon Batiste played his melodica, keyboards and piano and sang, accompanied by his group, Stay Human. The New Orleans native stirred a spicy gumbo of jazz, blues, ragtime and marching soul, rearranging "St. James Infirmary" and Scott Joplin's "The Entertainer."

The International Tennis Hall of Fame had a double bill opening with Dee Dee Bridgewater featuring Theo Crocker. This warm, cloudy night was the singer's debut at Newport.
As she walked on in a stunning black evening dress, she quickly noted, "I am honored to be on the same stage where Billie Holiday, Ella Fitzgerald and Dizzy performed their musical magic."
She opened with "Good Morning Heartache," manipulating the tempo to give herself more room for her sassy interludes, and followed with Holiday's original "Fine and Mellow." She has found an intuitive match with the young trumpeter Theo Crocker and his band. Bridgewater produced and is the guest vocalist on his latest CD ("Afro Physicist," Okeh Records). By the standing ovation, it seems Bridgewater may be returning to Newport.
Next up was Wynton Marsalis and the Jazz at Lincoln Center Orchestra. The orchestra paid tribute to former Newport jazz legends, rearranging their original compositions, including Benny Carter's "Echoes of San Juan," featuring Victor Goines on soprano saxophone; Horace Silver's "Senior Blues," arranged by Carlos Henriquez; and Benny Carter's "A Day and a Day or Again and Again," featuring saxophonist Sherman Urbie.
Marsalis and the orchestra exemplified the definition of a big jazz band. Duke, Basie and Lunceford would have been proud. This was the first time their music grabbed me with such intensity, as well as the rest of the audience, who danced and offered standing ovations.
The sky cried all day, and by 2 p.m., it had rained so much the Fort Adams State Park grounds were a muddy mess. But the loyal jazz fans sat in their chairs with raincoats and umbrellas enjoying the music. Under the pouring sky, the Robert Glasper Experiment mixed it up, with his background developing from a jazz and R&B vibe. The pianist's arrangement of Bill Wither's "A Lovely Day," with Casey Benjamin's electronically mixed vocals, changed the tune's sound. When he added his funked up soprano sax to the mix, it really took off, with drummer Mark Coleburg, bassist Burniss Travis and Glasper.