Bed-Stuy resident celebrates 105th birthday at Stuyvesant Heights Neighborhood Center
EULENE INNISS | 8/14/2014, 2:03 p.m.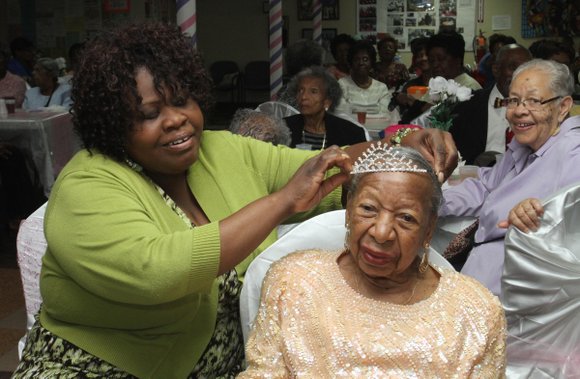 In 1909, there was a separate and unequal doctrine inherent to America's social and political system that permeated the air and wreaked long-lasting psychological havoc on the minds of Black folks. In the midst of this two-system turmoil, a virtuous and unscathed woman, Queen Mary Glenn, was born. To recognize her triumphant survival skills, Stuyvesant Heights Neighbor Center held a lavish birthday bash on July 31 to celebrate her 105th birthday with family, friends and the community.
"Queen Mary Glenn," as she is affectionately called, was born in Lynchburg, Va., July 25, 1909. She is the second of seven siblings—four boys and three girls, five of whom are deceased—and has resided in Bed-Stuy since her relocation to New York. She was married in 1942 and still lives in the same four-story walk-up. She has been a member of the Stuyvesant Heights Christian Church for 60 years and pastured by the Rev. Cornelius Brown for the past 27 years.
Glenn waltzed into the center surrounded by family members and rushed to join her 99-year-old sister, Ophelia Davis, who had traveled from Virginia to New York for the day's celebration. Decked out in a baby pink sequin–and–pearl fitted dress with a tiara, she instantly lit up the room with her big, bright smile as a roar of applause welcomed her. She is alert and has a great memory and an air of royalty.
Glenn reminisced about her early years of employment and the lasting relationship enjoyed with former employers. Celebrating with her were neighbors Elva (of 42 years) and Lewis Leonard (of 50-plus years), cousins, nieces, nephews, namesake godson, the Rev. Glenn G. Grayson of the Wesley Center African Methodist Episcopal Zion Church, Pittsburg, Pa., and representatives from elected officials' offices and the city's Department for the Aging.
"I have never smoked or drank," Glenn proudly proclaimed, "and I feel like a billionaire! I have travelled all over the world, but my favorite place is Jerusalem. I love the Jordan River. I saw people baptized there, but I was not. I have traveled a long way to get here, and at 105 years old, I have never asked anyone for anything!
"My father taught me to be always ready for a rainy day," she stated, a lesson she was taught when she was only 4 years old, through saving pennies. She said that her favorite president is Barack Obama, from whom she has received happy birthday wishes.
Barnett Burrowes, program manager of Stuyvesant Heights Center, and her assistant, D. Chew, are passionate about the quality of life experienced by all the seniors who use the center. Glenn received citations and proclamations from Assemblywoman Annette Robinson, Brooklyn District Attorney Ken Thompson, Brooklyn Borough President Eric Adams, and Council Member Robert Cornegy. Burrowes stated that the "center is one of the oldest Black agencies which deals with seniors and children, and our members are not seniors, but rather recycled teenagers."
The volume of high energy in the room did conjure up teenage feelings.